Weekend Box Office: Madagascar 3 Takes Center Ring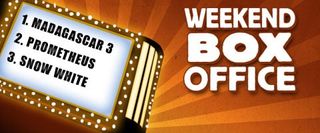 Summer generally brings on waves of sequels to fish extra cash out of audiences wallets without all the hassle of coming up with new characters or concepts. It's a proven technique that once again banked some solid box office results this weekend.
Madagascar 3: Europes Most Wanted became the audience favorite, taking the lead after a tight race Friday night against other newcomer Prometheus. Saturday brought the families out to play giving Madagascar 3 the edge it needed to take number one with $60 million. That's on par with its two predecessors who also opened in the low to mid $60 million range, bearing in mind that ticket cost inflation and 3D ticket price boosts mean fewer folks actually saw the third entry than the first two, they just paid more for the privilege.
Despite its R rating and edgy sci-fi thriller marketing campaign Prometheus came out with a strong debut. Prometheus joins the ranks of just 11 other R-rated movies in history to open above $50 million. Not bad for non-sequel to boot.
Over the last three weekends Wes Anderson's quirky drama Moonrise Kingdom has slowly been injected into an increasing number of theaters, giving audiences the chance to warm up to it via word of mouth. This weekend it enjoyed its biggest boost, increasing to nearly 100 theaters and banking $1.5 million, just enough to snag tenth place.
For the full weekend top ten, check out the chart below:
1.

Madagascar 3: Europe's Most Wanted
$60,350,000
Total: $60,350,000
LW: N WR: 1
THTRS: 4,258
2.

Prometheus
$50,000,000
Total: $50,000,000
LW: N WR: 1
THTRS: 3,396
3.

Snow White and the Huntsman
$23,021,000
Total: $98,500,000
LW: 1 WR: 2
THTRS: 3,777
4.

MIB 3
$13,500,000
Total: $135,505,000
LW: 2 WR: 3
THTRS: 3,792
5.

Marvel's The Avengers
$10,809,000
Total: $571,860,000
LW: 3 WR: 6
THTRS: 3,129
6.

The Best Exotic Marigold Hotel
$3,235,000
Total: $31,009,000
LW: 6 WR: 6
THTRS: 1,298
7.

What to Expect When You're Expecting
$2,710,000
Total: $35,745,000
LW: 7 WR: 4
THTRS: 2,087
8.

Battleship
$2,286,000
Total: $59,830,000
LW: 4 WR: 4
THTRS: 1,954
9.

The Dictator
$2,150,000
Total: $55,189,000
LW: 5 WR: 4
THTRS: 1,651
10.

Moonrise Kingdom
$1,579,000
Total: $3,750,000
LW: 13 WR: 3
THTRS: 96
Your Daily Blend of Entertainment News
Thank you for signing up to CinemaBlend. You will receive a verification email shortly.
There was a problem. Please refresh the page and try again.