Weekend Box Office: Maze Runner: The Scorch Trials Makes A Lukewarm Debut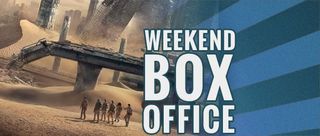 When people think Johnny Depp, most probably jump straight to Pirates of the Caribbean which would then lead them, if asked, to say 'yes, I think he's huge box office star'. Funny thing about that...
Depp's latest offering, Black Mass, has been getting some decent praise from reviewers as well as condemnation for blatant Oscar baiting, but audiences only gave it a mediocre response, handing out $23 million for a second place debut.
But, a well reviewed movie starring Depp? That should be a hit, right? Sure, Johnny Depp is a great actor and he has starred in some pretty amazing movies where he isn't playing Captain Jack Sparrow. But box office gold he is not. If you exclude the Pirates of the Caribbean franchise, Depp has only headlined two movies that opened at more than $50 million: Charlie and the Chocolate Factory and 2010's Alice In Wonderland. Most movies he's in don't break $100 million total and many of those don't earn more than $30 million.
Landing first place this weekend, for no other reason than that there was no major competition, was the second installation of yet another young-adult-novel-adapted, dystopian sci-fi thriller franchise, Maze Runner: The Scorch Trials. Unlike the Hunger Games movies that play on the level of setting and breaking box office records, or even the Divergent franchise that dabbles in $50 million openings, The Maze Runner opened last fall to the tune of $32 million. Its sequel, The Scorch Trials did little better, banking $30 million for its number one debut.
Mountain-climbing thriller Everest fell in the box office equivalent of an ice crevasse. It earned a paltry $7 million fifth place opening against a $55 million budget, leaving it with a long climb ahead to the break even point. Rounding out the four new movies this weekend was the ironically uninspiring Captive. At $1.4 million it barely eeked a spot in the top ten.
For the full weekend top ten, check out the chart below:
1.
Maze Runner: The Scorch Trials

$30,300,000Total: $30,300,000LW: N
THTRS: 3,791
2.
Black Mass

$23,360,000Total: $23,360,000LW: N
THTRS: 3,188
3.
The Visit

$11,350,000Total: $42,348,320LW: 2
THTRS: 3,148
4.
The Perfect Guy

$9,640,000Total: $41,350,472LW: 1
THTRS: 2,230
5.
Everest (2015)

$7,560,000Total: $7,560,000LW: N
THTRS: 545
6.
War Room

$6,250,000Total: $49,088,662LW: 3
THTRS: 1,945
7.
A Walk in the Woods

$2,732,730Total: $24,792,245LW: 4
THTRS: 2,158
8.
Mission: Impossible - Rogue Nation

$2,250,000Total: $191,732,210LW: 5
THTRS: 2,202
9.
Straight Outta Compton

$1,970,000Total: $158,921,260LW: 6
THTRS: 1,938
10.

Captive (2015)
$1,400,000
Total: $1,400,000
LW: N
THTRS: 806
Your Daily Blend of Entertainment News
Thank you for signing up to CinemaBlend. You will receive a verification email shortly.
There was a problem. Please refresh the page and try again.