Weekend Box Office: The Maze Runner Takes Top Spot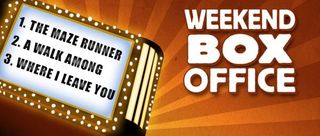 Three new movies took the top three places at the box office this weekend, but none of them left a very big impression.
The Maze Runner, based on yet another series of young adult books set in a sci-fi-ish, post-apocolyptic-ish world took first place, but only banked $32 million. That's a modest showing at best, well short of openings like Divergent's $54 million debut in March and the hugely successful Hunger Games franchise and its triple digit bow ins. Still, Maze Runner's $32 million start isn't bad when compared with its equally modest budget of $34 million, making it a viable, if not wildly successful, financial franchise.
A Walk Among the Tombstones stumbled in at second place with an unexpectedly low $13 million. Recent Liam Neeson action/thriller flicks like The Grey and the two Taken films opened in the $20 million or better department. Despite the movie getting mixed reviews, Neeson's performance has been handed plenty of applause, but that didn't seem to be enough to draw in a major audience.
This Is Where I Leave You also got off to a quiet third place start. It banked just $11 million, further proving that regardless of how funny or unfunny your rated-R comedy actually is, the smarter the trailer makes it look, the less successful it's likely to be. Witty comments about the harsh realities of life? No one will see your movie. Preview of a teenager getting bit on the scrotum by a tarantula? Guaranteed success.
Kevin Smith's latest offering Tusk withered on its opening weekend. The film debuted in just 602 venues but the oddity of a horror flick banked less than $1,500 per theater, less than most movies in the top ten. With less than $1 million in sales this weekend it landed somewhere in the mid-teens on the chart.
For the full weekend top ten, check out the chart below:
1.
The Maze Runner *

$32,500,000Total: $32,500,000LW: N
THTRS: 3,604
2.
A Walk Among the Tombstones *

$13,126,000Total: $13,126,000LW: N
THTRS: 2,712
3.
This is Where I Leave You *

$11,860,000Total: $11,860,000LW: N
THTRS: 2,868
4.

No Good Deed (2014)
$10,200,000
Total: $40,110,000
LW: 1
THTRS: 2,175
5.
Dolphin Tale 2

$9,005,000Total: $27,070,000LW: 2
THTRS: 3,656
6.
Guardians of the Galaxy

$5,180,000Total: $313,669,000LW: 3
THTRS: 2,846
7.
Let's Be Cops

$2,675,000Total: $77,196,000LW: 5
THTRS: 2,312
8.
Teenage Mutant Ninja Turtles (2014)

$2,650,000Total: $185,018,000LW: 4
THTRS: 2,348
9.

The Drop
$2,050,000
Total: $7,690,000
LW: 6
THTRS: 1,192
10.
If I Stay

$1,835,000Total: $47,672,000LW: 7
THTRS: 2,371