Weekend Box Office: Nightcrawler and Ouija In Dead Heat For Number One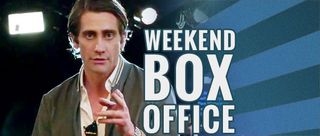 Halloween had a spate of horror, thriller and just plain creepy dramas in theaters, but none of them performed very well. That might be because getting candy for free going door to door is way better than taking out a second mortgage to be able to afford the kinds sold in movie theaters, but more likely audiences are just saving their pennies for bigger entries set to roll out in the next few weeks.
Jake Gyllenhaal's new thriller Nightcrawler took a very modest number one, banking $10.9 million. Last weekend's number one Ouija also banked about $10.9 million, but is estimated to have made $9,000 less than Nightcrawler. It's very possible the two could switch places when final numbers are released.
Nightcrawler wasn't the only new movie in wide release this weekend but it was the only one to break into the top ten. Colin Firth and Nicole Kidman's newest thriller Before I Go To Sleep opened on close to 2,000 screens but only took in around $2 million for a painfully distant 14th place. That was far better than the 10th anniversary re-release of Saw. It opened in more than 2,000 locations and banked only $650,000.
Meanwhile, Daniel Radcliffe, still eager to separate himself from the strange-creature-filled, magic-power-centered Harry Potter series, played a young man with horns and the ability to make people confess their darkest secrets in Horns. That movie only banked $100,000 in a little more than 100 locations.
For the full weekend top ten, check out the chart below:
1.
Nightcrawler *

$10,909,000Total: $10,909,000LW: N
THTRS: 2,766
2.
Ouija

$10,900,000Total: $34,963,000LW: 1
THTRS: 2,899
3.
Fury (2014)

$9,100,000Total: $60,437,000LW: 3
THTRS: 3,313
4.
Gone Girl

$8,800,000Total: $136,602,000LW: 4
THTRS: 2,834
5.
The Book of Life (2014)

$8,300,000Total: $40,524,000LW: 5
THTRS: 2,794
6.
John Wick

$8,050,000Total: $27,589,000LW: 2
THTRS: 2,589
7.
St. Vincent

$7,752,000Total: $19,527,000LW: 6
THTRS: 2,552
8.

Alexander and the Terrible, Horrible, No Good, Very Bad Day
$6,485,000
Total: $53,626,000
LW: 7
THTRS: 2,896
9.
The Judge

$3,400,000Total: $39,550,000LW: 10
THTRS: 1,942
10.
Dracula Untold

$2,946,000Total: $52,859,000LW: 9
THTRS: 1,913
Your Daily Blend of Entertainment News
Thank you for signing up to CinemaBlend. You will receive a verification email shortly.
There was a problem. Please refresh the page and try again.