Weekend Box Office: Number One Gives Way To Oblivion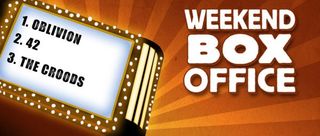 Big sci-fi action adventure starring Tom Cruise sounds like summer blockbuster fare, but Universal debuted it just a shade before the summer spectaculars hit. There was nothing spectacular about its $38 million opening, but it was still an applaudable start and without any competition the movie took an easy number one.
It was certainly good news for Cruise. The $38 million is the highest opening for one of his films since 2006's Mission: Impossible III.
Last week's champ 42 dropped only 35% and banked $18 million for a distant second place. But the movie with real staying power has been The Croods which, entering its fifth week in release, held on to the third place spot for the third week in a row. At $154 million in domestic sales it's a long shot to hit $200 million, but expect it to come close.
For the full weekend top ten, check out the chart below:
1.

Oblivion *
$38,152,000
Total: $38,152,000
LW: N WR: 1
THTRS: 3,783
2.

42
$18,025,000
Total: $54,057,000
LW: 1 WR: 2
THTRS: 3,250
3.

The Croods
$9,500,000
Total: $154,898,000
LW: 3 WR: 5
THTRS: 3,435
4.

Scary Movie 5
$6,296,000
Total: $22,944,000
LW: 2 WR: 2
THTRS: 3,402
5.

G.I. Joe: Retaliation
$5,775,000
Total: $111,211,000
LW: 4 WR: 4
THTRS: 3,175
6.

The Place Beyond the Pines
$4,746,000
Total: $11,448,000
LW: 10 WR: 4
THTRS: 1,542
7.

Olympus Has Fallen
$4,500,000
Total: $88,801,000
LW: 7 WR: 5
THTRS: 2,638
8.

Evil Dead (2013)
$4,100,000
Total: $48,445,000
LW: 5 WR: 3
THTRS: 2,823
9.

Jurassic Park 3D
$4,008,000
Total: $38,479,000
LW: 6 WR: 3
THTRS: 2,330
10.

Oz The Great and Powerful
$3,048,000
Total: $223,770,000
LW: 8 WR: 7
THTRS: 2,045