Weekend Box Office: Pan Fails To Fly As The Martian Makes Second Orbit At Number One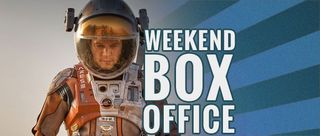 Bad form, Peter! Audiences had little to no interest in newcomer fantasy Pan which opened this weekend to lackluster reviews and a wince-worthy box office turn out. That left last weekend's top earner The Martian holding a tight orbit around the number one spot for a second time around.
The Martian accelerated past the $100 million mark this weekend, adding an estimated $37 million to its $108 million domestic total. That's a fun coincidence, matching the movie's reported $108 million production budget, though the movie was already well on its way to being profitable thanks to boost from international sales which put it at almost $160 million world-wide to date in its tenth day of release.
It was the third weekend for Hotel Transylvania 2, which held on to the number two spot, adding $20 million and pushing past $100 million as well. The animated sequel is the only the fifth highest earning animated movie to open this year, with a ways to go before catching up to the fourth highest, The SpongeBob Movie: Sponge Out of Water which topped out at $162 million. But with The Peanuts Movie, another Alvin and the Chipmunks sequel and Disney/Pixar's The Good Dinosaur still to come it's too early to say if it will remain one of the top five.
Hugh Jackman is a big name and it's easy to think that he's a major box office draw, but in fact, despite being a great performer, he has only ever headlined two non-X-Men franchise movies that opened above $30 million (Van Helsing and Happy Feet). That trend held up this weekend with Pan earning just $15 million.
That's tough news for director Joe Wright. Known for smaller budget dramas like Atonement and Anna Karenina, most of which have done relatively well in the sales department, Pan marks his first venture into big budget special effects fantasy and his first triple digit budget. At a reported $150 million production budget, Pan looks to be a major flop.
Robert Zemeckis' The Walk climbed into wide release this weekend, but sales didn't soar. It earned $3 million, enough to snag the seventh place spot, but with just $6 million in domestic sales and another $7 million internationally, it's in a tough spot against its relatively modest $35 million budget.
For the full weekend top ten, check out the chart below:
1.
The Martian

$37,000,000Total: $108,710,329LW: 1
THTRS: 3,854
2.
Hotel Transylvania 2

$20,300,000Total: $116,821,641LW: 2
THTRS: 3,768
3.
Pan *

$15,530,000Total: $15,530,000LW: N
THTRS: 3,515
4.
The Intern

$8,660,000Total: $49,574,047LW: 4
THTRS: 3,224
5.
Sicario

$7,350,000Total: $26,706,016LW: 3
THTRS: 2,620
6.
Maze Runner: The Scorch Trials

$5,250,000Total: $70,643,390LW: 5
THTRS: 2,838
7.
The Walk

$3,650,000Total: $6,361,499LW: 11
THTRS: 2,509
8.
Black Mass

$3,130,000Total: $57,568,791LW: 6
THTRS: 2,057
9.
Everest (2015)

$3,030,000Total: $38,210,215LW: 7
THTRS: 2,120
10.
The Visit

$2,420,000Total: $61,054,525LW: 8
THTRS: 1,759
Your Daily Blend of Entertainment News
Thank you for signing up to CinemaBlend. You will receive a verification email shortly.
There was a problem. Please refresh the page and try again.