Weekend Box Office: Perfect Pitch Two Hits A High Note, Mad Max Sings Back-up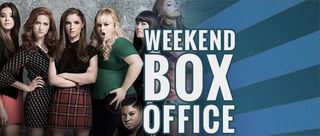 It's not unusual for a sequel to better than its predecessor, though more often it tends to be the case that it does worse. But for a sequel to make more in its opening weekend than the original did in its entire run. There's a rare box office feat.
But Pitch Perfect 2 did just that, banking $70 million this weekend for a solid number one debut. That's well clear of the $65 million Pitch Perfect earned as its domestic total back in 2012. No, the problem wasn't that the first movie was in small release (it peaked at over 2,750 venues). This is the case of a movie not catching on in a cult fashion until it hit home video. After garnering a chorus of followers the franchise struck a major chord of success with the sequel. That kind of financial home run (along with the movies' strong critical success) ensures at least one if not a string of movies yet to come.
The surprise critical smash of the summer, Mad Max: Fury Road, got off to a relatively strong start. The rated-R action flick banked $44 million on its opening weekend. That's also more than the previous Mad Max entry made, but the comparison is hardly fair given this is the first time Mad Max has returned to the big screen since Thunder Dome in 1985.
Avengers: Age of Ultron added $38 million to its $372 million total. It is still lagging behind sales of its previous entry The Avengers, but it has joined the ranks of the twenty other movies in history to sell more than $1 billion in tickets world wide.
For the full weekend top ten, check out the chart below:
1.
Pitch Perfect 2

$70,300,000Total: $70,300,000LW: N
THTRS: 3,473
2.
Mad Max: Fury Road

$44,440,000Total: $44,440,000LW: N
THTRS: 3,702
3.
Avengers: Age of Ultron

$38,837,000Total: $372,008,000LW: 1
THTRS: 4,276
4.
Hot Pursuit

$5,780,000Total: $23,504,000LW: 2
THTRS: 3,037
5.

Paul Blart: Mall Cop 2
$3,600,000
Total: $62,929,000
LW: 5
THTRS: 2,632
6.
Furious 7

$3,600,000Total: $343,800,000LW: 4
THTRS: 2,238
7.
The Age of Adaline

$3,200,000Total: $37,072,000LW: 3
THTRS: 2,623
8.
Home (2015)

$2,700,000Total: $165,647,000LW: 7
THTRS: 2,006
9.
Ex Machina

$2,103,000Total: $19,566,000LW: 6
THTRS: 1,718
10.
Far from the Madding Crowd

$1,300,000Total: $2,631,000LW: 15
THTRS: 289
Your Daily Blend of Entertainment News
Thank you for signing up to CinemaBlend. You will receive a verification email shortly.
There was a problem. Please refresh the page and try again.