What George Lucas Thinks Of Other People Altering Old Films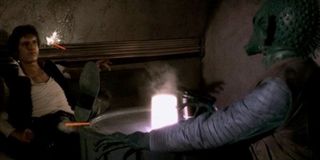 With all of the focus on the new Star Wars movie, and the unabashed excitement surrounding it, one could almost forget how frustrated many fans have been with the series in the past. While the original trilogy is almost universally loved, Ewoks notwithstanding, it's the current definition of the word "original" that still gets fans ire up these days. Every time the films are released in a new format it seems they get messed with again. Lucas was never able to help himself from tinkering when he still had creative control over the films. However, it turns out he didn't always feel the same way about making changes to films.
Many years ago, colorization of black and white movies was a hot-button issue. In 1988 the U.S. Congress actually held hearings on the topic, and number of prominent filmmakers spoke on the subject. One of those filmmakers was George Lucas. In a recently unearthed story on /Film, Lucas' entire statement is reprinted and it turns out that back then he wasn't a huge fan of the idea of altering movies.
Before we go any further, it does need to be pointed out that Lucas criticizes modification because there was no protection for the creator of the art. He does not specifically address artists making modification to their own work one way or another. However, he does make a number of comments which seem contradictory with his actions regarding the Star Wars movies. Lucas has often stated that the reason he has made the changes was because he wanted to make them more in line with his original vision. This is a fine argument, and not inherently wrong, but according to himself, he's not the person in possession of those films.
It's not the fact that the Special Editions mess with the cultural history of generations of movie fans that is the problem. Few, if any, people actually have a problem with the fact that other editions of the films exist, it's the fact the originals versions aren't available that is the problem. It's not like Blade Runner hasn't been re-cut a million times, but the newest Blu-ray still has the original version. There have been numerous rumors over the years, some very recently, that the original editions may hit Blu-ray one day, but thus far they've never proved to be more than rumors.
Are you still hopeful that the unaltered films will be available one day, or is this fight over and done with? Let us know below.
Content Producer/Theme Park Beat
CinemaBlend's resident theme park junkie and amateur Disney historian. Armchair Imagineer. Epcot Stan. Future Club 33 Member.
Your Daily Blend of Entertainment News
Thank you for signing up to CinemaBlend. You will receive a verification email shortly.
There was a problem. Please refresh the page and try again.