What The Hell Is This Secret J.J. Abrams Sci-Fi Project?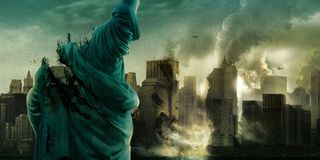 It looks like J.J. Abrams is adding another sci-fi title to his resume. While blockbuster filmmaker already has some pretty prestigious sci-fi titles under his belt like, the upcoming Star Wars: The Force Awakens, the 2009 version Star Trek, and its sequel, Star Trek Into Darkness, he's now scooped up another exciting project. Abrams and the folks at Bad Robot are now set to back a mysterious, untitled, new sci-fi project, to be directed by Chris Alender, which is currently in development at Sony Pictures.
The Wrap reports that the specific details about the script - the most recent version of which was drafted by Justin Doble - are being kept a secret, but the tone and budget of the film are very reminiscent to the film Cloverfield. The movie is also said to feature aliens, but we do not have any additional information on the extra terrestrial's part in the film.
Originally the project was housed with Paramount, but it moved to Sony after Bad Robot had repeated difficulties getting lower-budget projects off the ground. Once Paramount let go of the developing film, it was snatched up by Sony's Michael DeLuca (this is his third acquisition since the infamous Sony hacks), who will oversee the project on behalf of the studio. It seems like Sony is quite keen to get this project rolling, and part of the negotiations on the project was "aggressive progress to production" language. If that's true, we might not have to wait terribly long to get some more details on the script.
It's a little crazy to see J.J. Abrams find the time for any new projects - even if he is just producing - as he is currently eyeballs-deep in the Star Wars reboot. However, it seems like Alender has a very clear vision for the film. He reportedly created an engaging script and sizzle reel for the movie, a "lookbook," and an action-heavy, 5-minute teaser to share his vision with studio execs. Though this film is a drop in the bucket for Abrams in terms of upcoming projects, this new, untitled alien flick will be Alender's feature-length directorial debut. In 2011, the young filmmaker made a few waves with his short film, Eye of the Storm. You can check out the short below to get a taste of Alender's style.
At this stage, there doesn't seem to be a great deal of information available about the project, however it does look like this will certainly be a film to keep tabs on. With Abrams backing it and Alender's passion for the project, it seems like a truly exciting and inventive piece of science fiction could be coming our way soon. In the meantime, we can look forward to Abrams' highly anticipated take on the Star Wars universe. Star Wars: The Force Awakens will be hitting theaters on December 18, 2015.
Your Daily Blend of Entertainment News
Thank you for signing up to CinemaBlend. You will receive a verification email shortly.
There was a problem. Please refresh the page and try again.