What If Matt Damon Joins Tom Cruise In The Magnificent Seven Remake?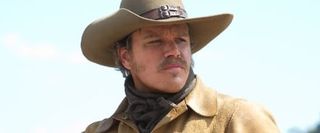 The Magnificent Seven itself started as a remake. The 1960 classic Western transplanted Akira Kurosawa's Seven Samurai to a small Mexican town, with cowboys played by Yul Brynner, Charles Bronson, Steve McQueen, James Coburn and more brought in to defend the town against a group of bandits. So while you can think there's no way to improve on that classic collection of cinematic badasses, you can't exactly call another Magnificent Seven movie sacrilege. That remake is indeed in the works, with Tom Cruise currently attached to play the lead, and while the movie itself doesn't seem particularly close to production, there's a new crop of rumors about which other gentlemen might be joining Cruise to save the day.
British tabloid The Sun-- which, like most British tabloids, has an incredibly spotty record for actually getting its stories right-- reports that Matt Damon is up to join Cruise n the film, and that Morgan Freeman and Kevin Costner "could" also fill in two more roles, though when you've got a British tabloid reporting what "might" happen, you basically can't count on anything. Their sources tell them that MGM is "throwing big money at the film," which would make sense given the fact that they've got Cruise on board, but not all that much sense given that MGM just went through a huge financial restructuring and shouldn't really have all that much money to throw around to begin with.
The report says that Damon would play the role that originally belonged to Steve McQueen, with Cruise in Yul Brynner's role-- but again, who knows how much of this we can count on. While we're on the subject, though, who do you want to see in the Magnificent Seven remake, assuming that it's going to happen no matter what and there's nothing you can do to stop it. This could wind up being kind of an Ocean's Eleven of the Old West, especially given the Damon connection, but what's funny is Cruise typically hasn't been a star who works with ensembles. He was a key part of Tropic Thunder, of course, but that was basically a glorified cameo, and though he had a whole crew surrounding him in Mission: Impossible - Ghost Protocol, he stole the show and he knew it. We'll see if Cruise can step back and truly become part of an ensemble-- but that means The Magnificent Seven remake has to exist first, and we still have no guarantee that it ever will.
Staff Writer at CinemaBlend
Your Daily Blend of Entertainment News
Thank you for signing up to CinemaBlend. You will receive a verification email shortly.
There was a problem. Please refresh the page and try again.