What Simon Pegg Took From Roberto Orci's Star Trek 3 Script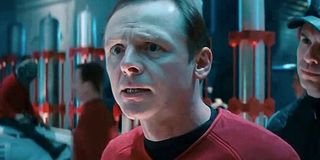 The upcoming third film in the current Star Trek series is chugging along, powered by the creative dilithium crystals supplied by one of the film's stars, Simon Pegg, aka, Montgomery Scott. After a shakeup last year would see Roberto Orci, a key member of the current iteration's creative forces bow out of the film, our new Scotty found himself in the engine room of the creative process alongside Doug Jung. So what remnants did Pegg decide to use from Orci's original script? Turns out, nothing at all.
In an interview with Den of Geek, Simon Pegg takes a few moments away from promoting his role reprisal in this summer's Mission: Impossible – Rogue Nation to update fans on the state of the Star Trek threequel directed by Justin Lin. While Pegg has several major screenwriting credits on his CV (many of which are comedies involving him and Nick Frost,) he describes the task of tackling a franchise the magnitude of Star Trek as "terrifying." When asked if there is any of Roberto Orci's literary DNA remaining in the script, Pegg states,
Thus, having to start from scratch, it seems that the breadth of Pegg's screenwriting task with Jung is for more comprehensive than we previously thought. From the sound of things, it does appear that Pegg is managing creative forces that have an instinct to put the proverbial cart before the horse. Star Trek 3 is undoubtedly the biggest project he's ever been tapped to write and being a franchise that's so firmly ingrained into the zeitgeist, a scribe tapped to write such a key vehicle will inevitably be given a laundry list by various producers consisting of "Star Trek-like" things that they feel "needs" to be in the script in order to be a proper Star Trek film; which could be a problem when those things clash with the story you wish to tell. Yet, it reflects the larger responsibility that he's accepted.
In Pegg's case, the story is apparently looking to avoid the artistic instinct to indulge in unconventionality in favor of what, in a previous interview, he says will carry "the spirit of the show." Indeed, 2013's Star Trek Into Darkness divided audiences, despite its attempt to cull straight from the very top of the mythos' rogues gallery with Benedict Cumberbatch's Khan, backed by over-the-top intensity that may have gone too far. Pegg seems to be looking more towards the poetic essence of what makes Star Trek so unique as a brand.
Hopefully, with a new director in Justin Lin, known from films in the Fast franchise that similarly engage in excessive action, the Pegg/Jung team of scribes can come up with a happy medium that rediscovers the formula for presenting the quintessence of Trek, but in a way more accessible for broader audiences, just as J.J. Abrams' first Star trek did back in 2009.
We will certainly find out when the still-untitled Star Trek 3 gets set to hit theaters on July 8, 2016.
Your Daily Blend of Entertainment News
Thank you for signing up to CinemaBlend. You will receive a verification email shortly.
There was a problem. Please refresh the page and try again.