Simon Pegg Has Rules He Follows While Writing Star Trek 3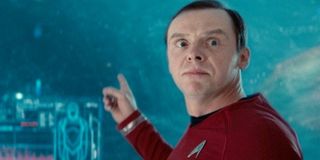 Simon Pegg has opened up about writing Star Trek 3, and he's admitted that a necessary part of the process for him is that he he needs to follow certain rules in order to respect the original series. However Pegg also insisted that he has only used this as a starting off point, and he wants his own take on the material to shine through.
The English writer and actor, who starred as Scotty in both 2009's Star Trek and 2013's Star Trek Into Darkness, made his comments to Collider, where he also admitted that he is terrified to be scripting the 2016 blockbuster. Discussing the upcoming sci-fi feature, Pegg added,
Simon Pegg has previously lent his scriptwriting hand to 2004's Shaun Of The Dead, 2007's Hot Fuzz and 2013's The World's End (each of which he co-wrote with Edgar Wright), and he's also helped to scribe 2007's Run Fatboy Run and 2011's Paul as well. Pegg's work, especially with Wright, has paid regular homage and made blatant references to various pop culture landmarks from the sci-fi and action genres, as the pair looked to riff on what made them so popular.
In the interview, the actor also admitted that he found it peculiar to walk into a franchise "and take ownership of it." Alongside Edgar Wright and Nick Frost, Pegg has always evolved and developed original ideas into a full-scale movies and worlds. But with Star Trek 3, Pegg explained that it has to respect the "realm" that he is entering, while also imprinting his own voice and personality into the blockbuster.
Simon Pegg found himself writing Star Trek 3 only after the franchise was forced to make multiple shuffles over the last couple years. It all began after J.J. Abrams, who directed Star Trek and Star Trek: Into Darkness, decided to leave the series to work on Star Wars: The Force Awakens. In his absence, Roberto Orci, who co-wrote the last two Trek movies alongside Alex Kurtzman, was hired to write the film alongside Patrick McKay and J.D. Payne. Orci was then hired to direct the blockbuster too.
However, creative issues with Paramount Studios soon led to <="" roberto=""> departing, and Simon Pegg admitted that he was brought on to co-write the follow-up with Doug Jung almost by accident. Pegg was hired by Bryan Burk (a producer at Bad Robot) because the pair were talking and getting excited about the direction of the new film. This led Burk to offer him the opportunity to write Star Trek 3, and after careful consideration, he finally accepted the responsibility.
Simon Pegg also revealed that they should be finished with the script by June, however he expects them to be tinkering with it throughout production. Star Trek 3 is currently scheduled for a 2016 release date.
Your Daily Blend of Entertainment News
Thank you for signing up to CinemaBlend. You will receive a verification email shortly.
There was a problem. Please refresh the page and try again.