What Studio Executives Think Of Rotten Tomatoes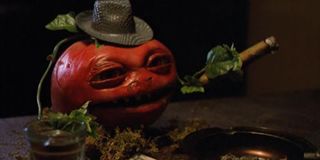 It's been a rather surprising summer for Hollywood studios. Fantastic Four and Terminator: Genisys each tanked, while Jurassic World and Furious 7 were monumental hits. Now, in hindsight, one of the big reasons studios executives attribute to a film's success is the impact of Rotten Tomatoes, the movie review-collecting website that the powers that be in Hollywood taking it very seriously.
According to The Hollywood Reporter, this summer's statistics help prove just how much audiences use Rotten Tomatoes as a barometer before they go and see a film. In fact, THR reports that more people wait to see scores on Rotten Tomatoes and then decide what to see, which basically means that pre-release tracking figures -- once very important to the studios -- are now redundant.
Speaking about the rise in power of the website, Paramount's president of worldwide distribution and marketing Megan Colligan explained:
Just look at the statistics: Terminator: Genisys, Entourage, Magic Mike XXL, Vacation, The Man From U.N.C.L.E., Fantastic Four, and We Are Your Friends each failed to match the projections that early-release tracking predicted for them (according to THR). And it's no coincidence that each of these films also scored disastrously low scores on Rotten Tomatoes.
Meanwhile, Trainwreck, Straight Outta Compton, and Mission: Impossible – Rogue Nation, each excelled on Rotten Tomatoes, scoring 85 percent, 90 percent, and 93 percent "fresh," respectively. As a result, they grossed way more than was expected. In the end, because of the perceived influence, studios have even started to include the scores of Rotten Tomatoes on posters instead of quips from critics.
It's now been widely accepted by Hollywood that a huge re-shuffle and re-examination of the "methodology" of tracking needs to be conducted, because the old system is obsolete thanks to word-of-mouth. As Disney distribution head Dave Hollis explained:
Several tweaks are now going to be made to the process, the biggest of which will see tracking companies like the National Research Group and MarketCast survey casual moviegoers more, rather than just avid ones. Previously, they would only keep track of film fans who went to the cinema between six and eights times a year. However, Jurassic World's $1.67 billion gross was achieved thanks to the influx of casual fans.
Despite the monumental oversights of the tracking system over the last few months, this summer saw the second biggest domestic box office total in the history of cinema. Tying 2011, $4.4 billion has been amassed, which is just behind 2013's $4.9 billion. While that's clearly a positive for the studios, they want to make sure that next summer they know exactly how much they're getting, and where it's coming from.
Your Daily Blend of Entertainment News