Kirk Cameron Tried To Cheat Rotten Tomatoes, It Did Not Go Well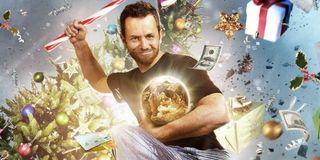 Kirk Cameron has unashamedly tried to improve the rating of his latest film Surviving Christmas on Rotten Tomatoes by asking his legion of Facebook fans to visit the website and support the project. Unfortunately for the actor, his ploy was far from successful.
Saving Christmas has been savaged by critics ever since it was released earlier this month. In fact, its average rating on the film review aggregation website has been a meager two out of 10. In an attempt to raise the film's profile, star Kirk Cameron has tried to fight back against his many, many haters by turning to his supporters on Facebook. The former Growing Pains star has close to 2 million followers on the social networking website, and has declared a call to arms in an attempt to "storm the gates of Rotten Tomatoes!" You can read his valiant message in its entirety below.
Post by Kirk Cameron.
As you can see, Kirk Cameron coerced two tomatoes to join in his evil crusade, and he even had the gall to write the words "Fresh" and "Rating" on them. The next day the actor returned to his Facebook page to reveal that his evil and slightly unethical plan was beginning to work. Cameron declared that Saving Christmas' Rotten Tomatoes fan rating had actually risen to the gargantuan sum of 94%. This meant that it was now more popular than the likes of Dawn Of The Planet of The Apes, The Grand Budapest Hotel, Gone Girl and Captain America: The Winter Soldier. As you can imagine the cinematic community was appalled by this situation and reacted in their droves to try and push the movie's total down once again.
Kirk Cameron wouldn't be stopped in his pursuit to stop this movie injustice from being committed though, and he quickly chastised all of the "haters and atheists" for trying to rectify the original rating. A hefty sum of internet users have now bombarded Saving Christmas' Rotten Tomatoes page though; providing their own reviews of the film that have just heaped more and more criticism on every facet of its production. You should head over there to check out some of the reviews. It includes some absolute pearls, such as user C.b. B's rather crude put-down, "Makes Tyler Perry look like an auteur. This is worse than AIDS." The "haters" and "atheists" that Kirk Cameron mentioned have now helped Saving Christmas' rating drop once again to 36%. Which is still higher than it should be. God only knows how Kirk Cameron will react when he comes across Saving Christmas' 1.4 rating on IMDB.
Your Daily Blend of Entertainment News