Where's Waldo Movie Gets A Screenwriter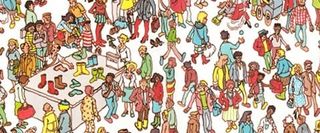 I already feel the need to apologize for the headline above. The mere existence of the Where's Waldo movie is enough to fret over, the idea of a movie studio using timeless, simple books to create a movie franchise that will surely be too big and too irritating. But now that there's a writer hired-- a writer who will be paid a good salary to write this, and have his name attached to it for all time-- I kind of feel sorry for everybody involved. I know it's hard to find good work in Hollywood these days, but surely this guy must be a little embarrassed too.
The guy in question, for the record, is Todd Berger, who THR says has been charged with the task of turning the bespectacled wanderer Waldo into a character worth following for an entire film. They also have an interesting detail about the version of the story that Paramount/Nickelodeon would have told had they won the film rights that eventually went to MGM. Chris Meledandri's Illumination Entertainment was teaming with Paramount/Nickelodeon and attempting a story that would turn Waldo into a time traveler, wandering through various stages in history after accidentally activating a time machine. Perhaps realizing these ideas probably sound better in execution than in one-sentence pitches, MGM is keeping their plot under wraps for now.
Berger is the writer behind The Happytime Murders, a Black List honored script with Cameron Diaz attached. He also wrote, directed and stars in It's A Disaster, an indie comedy that also stars Julia Stiles, David Cross and Rachel Boston. It seems likely we'll see that movie before Waldo comes to fruition, so who knows-- maybe by the time the Waldo movie comes out, Todd Berger will be an acclaimed indie director, and this movie will be even more of a mystery.
Your Daily Blend of Entertainment News
Staff Writer at CinemaBlend