Who Is Dr. Ronald Chevalier?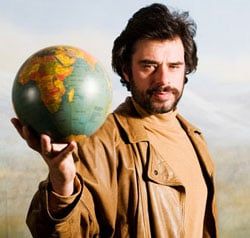 Jared Hess has been responsible for bringing forth into the world's pop consciousness such characters as Napoleon Dynamite and Nacho Libre. For his next trick, he's breathing life into a guy named Dr. Ronald Chevalier, author of all ten Cyborg Harpies trilogies.
Chevalier is a fictional fantasy writer being played by Flight of the Concords star Jermaine Clement in the new Jared Hess directed movie Gentleman Broncos. That's him there to your right, almost unrecognizable beneath a wacky beard. The movie is about a teenager who attends a fantasy writers convention and has his idea stolen by an established novelist. Presumably that novelist is Chevalier, since Fox Searchlight has gone through the trouble to give him his own viral website located at RonaldChevalier.com.
Gentlemen Broncos has finished filming and is currently in post-production, though it has no official release date yet. I've included a few videos and photos of the extremely odd Ronald Chevalier below, but head over to his website for a more complete look at Clement's bizarre new character. Ronald Chevalier could easily be the love child of the Guru Pitka and L. Ron Hubbard. I'm not yet certain whether that's funny.
Dr. Chevalier explains the role of music in his creative process:
Your Daily Blend of Entertainment News
Thank you for signing up to CinemaBlend. You will receive a verification email shortly.
There was a problem. Please refresh the page and try again.