Why Is Batman V Superman Filming In A Cemetery?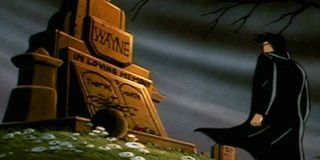 Fans hoping for an upbeat, borderline comical tone to Zack Snyder's Batman v Superman: Dawn of Justice might want to pre-order James Gunn's Guardians of the Galaxy instead, because new set pics tease death. Morning, loss and the potential of death.
Not that Batman was a sunny dude, anyway, but Ben Affleck was looking unusually somber in set pics captured by SupermanHomepage.com. (You can view them by clicking here.) Because you might not want to be spoiled about the potential content of said photos, I'm going to put a spoiler tag, and then bury my analysis underneath this montage of Bruce Wayne's parents being murdered. Smile!
So, the pics from the most recent Zack Snyder shoot have Ben Affleck in a cemetery standing over a tombstone at "Smallville Cemetery," located in Yorkville, Illinois. As you can see, if you clicked the image above, Affleck's in full Bruce Wayne mode, decked in a suit (but not THAT kind of suit, if you know what I mean). Tweets suggest that several members of the Man of Steel cast are on hand, including Henry Cavill, Amy Adams, Diane Lane and Laurence Fishburne. The site notes that Jonathan Kent (played by Kevin Costner in Snyder's first movie) is buried in that cemetery, but there's no confirmation that's whose grave they are all filming around.
And why would they? Even if Bruce were trying to forge a bond with his soon-to-be-ally Clark Kent, a scene over the grave of the late Jonathan Kent seems ill-timed. It's possible this means someone else of significance will pass away in the upcoming Batman v Superman: Dawn of Justice. But this movie is all about ADDING new characters to the ever-growing universe – not subtracting them. If we have to hazard a guess, the grave could belong to the mysterious character played by Holly Hunter? Maybe the green-socked Scoot McNairy loses his life as well as his legs?! There are certain people in this cats who have to be around for the long haul – from Gal Gadot's Wonder Woman to Ray Fisher's Victor Stone (a la Cyborg) or Jesse Eisenberg's Lex Luthor.
What surprises me is that Zack Snyder is still filming. We have been running reports of Batman v Superman shooting since earlier this year, and the notes have been flooding in for months. Snyder could have enough in the proverbial can for 11 Batman v Superman movies. If only DC had room on its slate.
Movie junkie. Infatuated with comic-book films. ReelBlend cohost. Resident dad. Extroverted introvert. Wants to see the Snyder Cut. Managing Director at CinemaBlend.
Your Daily Blend of Entertainment News
Thank you for signing up to CinemaBlend. You will receive a verification email shortly.
There was a problem. Please refresh the page and try again.