Why Gary Oldman's New Movie Was Banned In Russia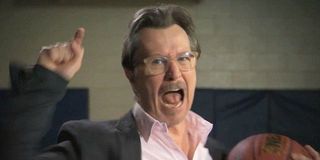 Child 44, the latest film from Gary Oldman and Tom Hardy, has been banned in Russia only days before it was due to hit screens because of the way that it has allegedly reimagined historical events. This has caused a slight issue for Lionsgate ahead of the historical effort's official release around the globe, and it's just the latest problem that the studio has suffered in the country.
According to Deadline, Russia's Ministry of Culture has complained about Child 44 because of its "distortion of historic facts and willfully interpretation of events… as well as images and characters of Soviet citizens of the period." The Ministry of Culture's website also went on to add that an agreement had been reached to delay the film's release because of its closeness to the 70th anniversary of Russia's victory over Nazi Germany in World War II.
Set in Stalin-era Russia and adapted from Tom Rob Smith's novel of the same name, Daniel Espinosa's Child 44 stars Tom Hardy as disgraced secret police agent Leo Demidov, who works alongside General Mikhail Nesterov (Gary Oldman) to pursue a pedophilic serial killer. Demidov is exiled from Moscow to a Siberian outpost after he refuses to denounce his wife Raisa (Noomi Rapace). Demidov and Nesterov find themselves involved in a government conspiracy which has been enforced by Joel Kinnaman's Vasili.
The Central Film Partnership, Child 44's film distributor in Russia, are now in the process of appealing the ban of the film. However, it will only be shown in the country if authorities decide to uplift the embargo, a decision that Lionsgate will hope is reached, as Russia has turned into an important box office territory.
Pavel Stepanov, who is the general director at Central Partnership, issued a press release that explained when the distributor bought the rights to Child 44 from Summit in 2011 they suggested "changes at the script, production and overdubbing stages." Either these weren't followed, or when they weren't done to a satisfactory level.
One of Lionsgate's options in order to get Child 44 approved in Russia is to edit down the variety of issues that the authorities have with the film. Lionsgate hasn't made any announcement regarding what they plan to do with Russia's version of Child 44, and they will now almost certainly wait until the culmination of the appeal process before proceeding.
Russia had previously declared back in August that they would ban any foreign films that "demonized" their country or its inhabitants, though this hasn't been enforced yet. Meanwhile, Lionsgate has previously had issues with the likes of Expendables 3 and Hunger Games: Mockinjay, Part 1 in Russia because of bootlegging and the dropping of the ruble, respectively. Child 44 is due out on April 17 in the United States.
Your Daily Blend of Entertainment News
Your Daily Blend of Entertainment News
Thank you for signing up to CinemaBlend. You will receive a verification email shortly.
There was a problem. Please refresh the page and try again.