Your 2015 Reading Guide: 15 Great Books About To Become Movies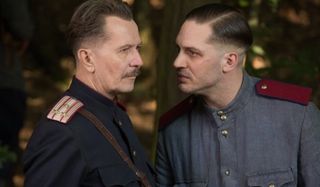 "The book was better." These words make up the classic phrase that literary adaptations live and die by, and believe it or not, it's not always the truth. Sometimes the movie takes the story that the book tried to tell, and turns it into a more fully formed tale that the author can't help but respect. It happened when John Steinbeck admitted that The Grapes Of Wrath was a much darker story on the screen than on the page, and it more recently happened when Stephen King's The Mist was given an ending that even the king of horror had to admit worked perfectly.
Of course, there are also the ones that don't get what the book was trying to say. For every adaptation of The Mist, there's a disastrous adaptation of Timeline waiting to take its place. For now, though, we'll remain optimistic about these upcoming projects. After all, your favorite book is equally able to be your next favorite movie, or the next reason you'll always prefer the printer word to a film print. Keep that in mind as we present to you the 15 books you should be reading in the coming months to prepare yourselves for the cinematic road ahead. Think of it as the Cinema Blend Book Club.
"The Last Apprentice: Revenge Of The Witch," by Joseph Delaney
Status: After a delay ranging back to the film's original February 15, 2013 release date, Seventh Son is set to finally be released on February 6, 2015 by Universal and Legendary Pictures.
Who's Involved: Mongol director Sergei Bodrov helmed the picture, with stars Jeff Bridges, Julianne Moore, and Djimon Hounsou lending their star power to a film that also stars Kit Harington, Alicia Vikander, and Ben Barnes.
Why You Should Read The Book First: Medieval fantasy is always a tricky thing to adapt to the big screen, and Seventh Son is dripping with elements that'll probably sound even better being described in print, free of special effects limitations. Thankfully, Jeff Bridges seems to be using an accent that's a lot easier to understand in his performance, so your favorite dialogue will be clear as a bell. Though it couldn't hurt to keep a copy handy, just in case.
Will The Movie Be A Hit? Unlikely, otherwise the film's release date wouldn't have been bounced so long that the project switched hands between Warner Bros and Universal Pictures after Legendary switched partners.
"50 Shades Of Grey," by E.L. James
Status: Poised to be a Valentine's Day offering to remember, 50 Shades Of Grey will be in theaters on February 13, 2015.
Who's Involved: Sam Taylor-Johnson is directing, with Jamie Dornan and Dakota Johnson paying Christian and Anastasia, respectively. As for the rest of the cast, it's an eclectic mix of talent from all corners of the entertainment world. Where else would you find Rita Ora and Marcia Gay Harden possibly sharing screen time?
Why You Should Read The Book First: This is probably a no brainer, as we already know the kinkier bits of the film's story are either being toned down or removed completely. Reading the original text would allow you to gain access to all of the stuff too hot for the silver screen. More importantly, reading 50 Shades Of Grey before seeing the film will allow you to truly connect with the characters, as we all know how touchy the subject of casting the leads has been in public discourse.
Will The Movie Be A Hit? It certainly looks like it will be, as Fandango has had through the roof pre-sales for opening weekend. The only question seems to be how big of a hit the film will have to be to ensure that 50 Shades Darker and 50 Shades Freed will follow.
"Insurgent," by Veronica Roth
Status: Practically green lit before Divergent even hit theaters, The Divergent Saga: Insurgent is the first in the series to go to 3D and IMAX screens, as well as conventional theaters, on March 20, 2015.
Who's Involved: Robert Schwentke is taking the reins for the remainder of the Divergent Series, and he's got everyone from Shailene Woodley to Kate Winslet returning, as well as newcomers Octavia Spencer, Ray Stevenon, and Naomi Watts, on board.
Why You Should Read The Book First: If Insurgent's adaptation is anything like the adaptation to Divergent, then the character of Tris Prior will continue to be watered down from her original, more kick-assed self. Not to mention, as we've seen in the choice to delete one of the most important scenes from Divergent, Peter's character is also watered down, as he's less psychopathic and more snarky in his film incarnation.
Will The Movie Be A Hit? Yes, and it'll run straight to the bank with all of its profits, setting up the two part finale for the ultimate slam dunk. With no competition, and a wildly successful first installment, The Divergent Series is almost the next Hunger Games... almost.
"Child 44," by Tom Rob Smith
Status: Slated for release on April 17, 2015, Child 44 is pretty much in the can, or at least in the editing bay.
Who's Involved: Tom Hardy leads an all-star cast that includes Gary Oldman, Noomi Rapace, and Jason Clarke; all under the direction of Safe House helmsman Daniel Espinosa.
Why You Should Read The Book First: In a political murder mystery like Child 44, there's bound to be a handful of character moments and subplots that are designed to keep a book moving, but looks like padding in a motion picture. Considering this is the first of three books, and the fate of any other film adaptations resting on this film's possible success, you can expect a leaner, more visceral experience out of the film.
Will The Movie Be A Hit? Possibly, but if it is, it will be a modest hit at best; what with Paul Blart: Mall Cop 2 and Unfriended both duking it out for the pre-summer box office dollars.
"Far From The Madding Crowd," by Thomas Hardy
Status: On track for May 1, 2015.
Who's Involved: Carey Mulligan will be playing the lead, with Michael Sheen, Tom Sturridge, and Matthias Schoenaerts as her would be suitors.
Why You Should Read The Book First: Thomas Hardy's timeless classic has been through almost as many modernizations and interpretations as Frankenstein itself. Who knows what details have been tweaked or altered throughout the years? More importantly, the archaic language of Hardy's original novel will be a true treat for the more literary reader.
Will The Movie Be A Hit? The Avengers: Age Of Ultron is being released on the same day, so there's a slight possibility that Far From The Madding Crowd could make for a pleasant bit of counter-programming. That said, it'll be a surprise if this film is even remembered on opening weekend. Superheroes sell.
"Paper Towns," by John Green
Status: Scheduled for a June 5, 2015 release; though that's all we've heard at this point.
Who's Involved: Second-time director Jake Schreier is the latest second timer to land themselves at the head of a John Green adaptation, with The Fault In Our Stars writers Scott Neustadter and Michael H. Weber bringing their writing talents to another of Green's literary works. Completing the chain of two-timers is Paper Towns' lead actor, The Fault In Our Stars' co-star Nat Wolff.
Why You Should Read The Book First: John Green's books are a thing of beauty, particularly in the way that he describes the surroundings and the feelings of a character. While any movie can try and do its best to translate that data into a visual feast for a viewer to enjoy, you just can't beat Green's way around words. Why do you think The Fault In Our Stars had so many memorable lines?
Will The Movie Be A Hit? The Fault In Our Stars was one of the biggest surprise hits of 2014, so Paper Towns could have the same social media momentum in 2015. However, Insidious: Chapter 3 and Entourage will do their best to try and take the wind out of this flick's sails.
"Jurassic Park," by Michael Crichton
Status: The Jurassic Park franchise is setting itself up for a huge revival, with Jurassic World's June 12, 2015 unveiling.
Who's Involved: Colin Trevorrow, personally handpicked by Steven Spielberg himself, has a hell of a cast working for him. Chris Pratt and Bryce Dallas Howard are the two heavy hitters we'll see the most of, with Judy Greer, Irrfan Khan, and Vincent D'Onofrio rounding out the roster.
Why You Should Read The Book First: While Jurassic Park has lead a healthy life as a film franchise, it's a wildly different product from the original book, and its sequel, The Lost World. For those who want more scientific background, as well as some possible plotlines Dr. Henry Wu's reappearance might follow, this is a wise book to add to your library list.
Will The Movie Be A Hit? Unquestionably. Running unopposed in its opening weekend, with little competition preceding it and only a Pixar film succeeding it, Jurassic World has no choice but to be a colossal cash haul.
"Peter Pan," by J.M. Barrie
Status: All ready for a July 24, 2015 take off into Neverland.
Who's Involved: Atonement director Joe Wright continues his adaptation streak, with Hugh Jackman, Rooney Mara, and Amanda Seyfried along for the ride.
Why You Should Read The Book First: Considering how Pan is a "new take" on the source material, which itself has been covered by Disney's classic animated film, and P.J. Hogan's 2003 misfire, perhaps now's a good time to refresh yourself on the true story of Peter Pan, the Lost Boys, and Wendy Darling. That, and you'll be able to continue on with the well-regarded sequel series, Peter And The Star Chasers.
Will The Movie Be A Hit? Honestly, this looks like it's going to be one of the summer's unfortunate casualties. While it looks colorful and outlandish, Joe Wright has let visuals get in the way of a coherent story in the past. (See: Hanna) Also, the less said about the casting controversy around Tiger Lily, the better.
"Frankenstein," by Mary Shelley
Status: Like clockwork, another Frankenstein adaptation is heading our way, this time making its way to theaters on October 2, 2015.
Who's Involved: Daniel Radcliffe is Dr. Frankenstein's assistant, Igor; the main focal point of the story. James McAvoy is the latest actor to play Victor Frankenstein, and Paul McGuigan is directing.
Why You Should Read The Book First: Nine times out of 10, adaptations of Frankenstein tend to get the most important factor of the story wrong: the relationship between The Monster and Dr. Frankenstein. More importantly, they screw up the fact that The Monster has no real name, and Frankenstein is the creator of The Monster, not the monster itself. If you're looking for a tale of playing God, foresaking your creator, and revenge most cruel – this is the story you were always meant to read.
Will The Movie Be A Hit? Doubtful, with London Has Fallen riding the wave of popularity its predecessor has built up, and The Walk's release on the same day screams early prestige competitor. Also, if that wasn't enough, there's two words that say it all: I, Frankenstein.
"The Finest Hours," by Casey Sherman and Michael J. Tougias
Status: The film is scheduled for a October 9, 2015 release date.
Who's Involved: Craig Gillespie, who was last seen adapting the true story of Million Dollar Arm, leads a cast that includes Chris Pine, Eric Bana, Casey Affleck and Ben Foster.
Why You Should Read The Book First: Based on a real life story of two oil tankers in a collision back in 1952, The Finest Hours is the sort of account that's undoubtedly chock full of details that wouldn't jump to the big screen. In addition, the film will undoubtedly focus more on the action than the people themselves. Films are great for action, but the real story of the men who risked their lives on such a rescue mission are better served on the page.
Will The Movie Be A Hit? Gillespie's luck has not held well as of late, especially with Million Dollar Arm testing so well, only to become a box-office disaster. Pine's track record at this point is 50/50, but considering the October release date, the only competition will be the lighthearted reboot to National Lampoon's Vacation opening the same day. We're guessing this will get lost in the shuffle.
"On Her Majesty's Secret Service," by Ian Fleming
Status: Currently in production, Spectre will be shooting in Austria, Morocco, and Rome – with a November 6, 2015 launch.
Who's Involved: Skyfall director Sam Mendes returns, with Daniel Craig in his second to last James Bond film. Ralph Fiennes, Naomie Harris, and Ben Whishaw are also returning, with Christoph Waltz playing a mysterious role that may or may not be Blofeld.
Why You Should Read The Book First: Daniel Craig's James Bond is harder edged and more vulnerable than any other incarnation of the super spy's life. That is, unless you count Timothy Dalton's two films, and more importantly George Lazenby's only outing in the series, On Her Majesty's Secret Service. If the casting rumors, the Austrian shoot, and even the title of the film are any indication – this book is going to be the most important in the Bond series to date.
Will The Movie Be A Hit? Naturally, as Skyfall has primed fans for 50 more years of James Bond adventure, and Mendes really seems to have a master grasp on the series' more serious, yet appropriately funny, success.
"The Martian," by Andy Weir
Status: Assumed to be in production, with a November 25, 2015 release date penciled in by Fox.
Who's Involved: Who isn't? Ridley Scott is directing from previous director Drew Goddard's script, with an all star cast lead by Matt Damon, and filled out with luminaries like Chiwetel Ejiofor, Kristen Wiig, Jeff Daniels, and Jessica Chastain... and that's just a taste.
Why You Should Read The Book First:The Martian, while action packed and easy to adapt into a thrilling space adventure, also has a lot of scientific explanation and know how. In fact, the most intriguing aspect about the book is how astronaut Mark Watney tries to keep himself alive, despite several major setbacks during his journey on Mars. While we'll see Watney fighting for his life, there's a more than likely chance the explanations behind how he solves his varying problems will be omitted.
Will The Movie Be A Hit? Even money, with the favorable outcome being the one that seems more likely. If the cast doesn't lure 'em in, "From The Director Of Alien And Gladiator," surely will. Better still, this could be an awards contender in the same way that Gravity before it was.
"Krampusnacht: Twelve Nights Of Krampus," edited by Kate Wolford
Status: Announced for a December 4, 2015 release... just in time for Christmas.
Who's Involved: Trick 'r Treat director Michael Dougherty is bringing his unique brand of horror and comedy to the yuletide season.
Why You Should Read The Book First: The Krampus is a subject of laughter, more than fear, with international audiences. The truth of the Krampus is that it's a more sinister being than most would imagine, and it's wise to go into the film knowing what you're getting yourself into. In other words, read the story before you decide to take your kids to what some may mistake as a funny, charming Christmas movie.
Will The Movie Be A Hit? Trick 'r Treat is a cult classic, with a good enough following to resurrect the direct to DVD film for a sequel anthology. Krampus could be another underground hit that'll be playing for years, regardless of theatrical success.
"In the Heart of the Sea: The Tragedy of the Whaleship Essex," by Nathaniel Philbrick
Status: Originally scheduled for March 13th, Warner Bros pushed the film to an awards season/ "inspirational story" friendly December 11th.
Who's Involved: Director Ron Howard has reteamed with Chris Hemsworth to tell the story that inspired Moby Dick. Also on board this old school sea epic are Cillian Murphy, Brendon Gleeson, and Ben Whishaw, among others.
Why You Should Read The Book First: Historical stories are always made to be a bit more exciting than the events that inspired them, with In The Heart Of The Sea already being adapted into a classic novel, that in turn has been made into classic entertainment. If you want the truth behind the fiction, then you've got some extra time to catch up.
Will The Movie Be A Hit? Ron Howard's no dummy, and his previous pairing with Chris Hemsworth in Rush yielded some golden talk in its day. In The Heart Of The Sea looks like it's a return to form for both, and could bring in some nominations this time next year.
The 5th Wave
Status: Currently slated for January 29, 2016.
Who's Involved: J. Blakeson, director of The Disappearance Of Alice Creed, is in charge of this project; with Chloe Grace Moretz, Liev Schriber, and Ron Livingston being the big names in the acting department.
Why You Should Read The Book First: The key to YA adaptations is latching onto what's new and what's ready to be franchised. With two books in the queue, The 5th Wave series is another contender for the crown that Twilight, The Hunger Games, and Divergent have all worn at one point or another.
Will The Movie Be A Hit? Unknown. The series isn't as well known as its more successful counterparts, but it's still a YA best-seller. January is a good time to test unknown quantities, so anything goes.
Your Daily Blend of Entertainment News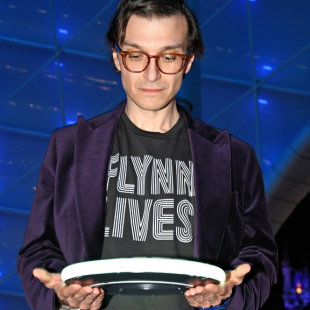 Senior Movies Contributor
CinemaBlend's James Bond (expert). Also versed in Large Scale Aggressors, time travel, and Guillermo del Toro. He fights for The User.