Vincent Cassel Replaces Philip Seymour Hoffman Mid-Production On Child 44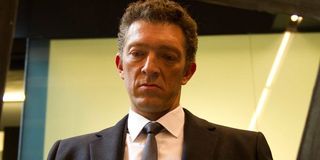 Celebrated French film star Vincent Cassel is the latest actor to join Daniel Espinosa's Safe House follow-up, Child 44. Between his smoldering turn as a sneering dance instructor in Black Swan and his Cesar-winning performance in the epic gangster biopic Mesrine: Killer Instinct/Public Enemy #1, Cassel's inclusion in any thriller's cast is good news, but what's surprising here is that he's been brought in to replace Academy Award-winning thespian Philip Seymour Hoffman - and with production in full swing no less!
Deadline reports Cassel has joined the cast that already boasts Tom Hardy, Gary Oldman, Noomi Rapace, Joel Kinnaman, Jason Clarke, Paddy Considine, and Fares Fares. Just as was the case when Hoffman was brought on board, no information has been released about this role Cassel's taken over. Perhaps more frustrating, Deadline doesn't give any hint to why the swap occurred so late in production. Child 44 began shooting in Prague, Czech Republic in June, so we assume production is close to wrapping by now. Could Cassel being brought in so late be a sign of trouble on set, or is it just a last minute change in the direction of the film?
For now, we can only speculate. Presumably, this Cassel nee Hoffman role is a small one, as Hoffman himself was cast shortly after the film first went into production. Thankfully, as its based on Tom Rob Smith's best-selling novel of the same name, we do know a fair amount about Child 44's plot, if not all its characters.
The 2008 novel is set in 1950s Russia, where Stalin's influence is still intense. There, Leo Stepanovich Demidov is a military cop chasing a serial killer whose has a penchant for murdering children. This gruesome thriller is inspired by the real-life crimes of the atrocious Andrei Romanovich Chikatilo. This Ukranian madman earned such grim monikers as The Butcher of Rostov, The Red Ripper, and The Forest Stripper Killer for his 12-year spree of sexual assaults, mauling, and murders. When he was finally caught, Chikatilo confessed to killing a shocking total of 56 people. Aside from this grisly murder investigation, Child 44 is also said to explore the social ills of Stalin's Soviet Union, including paranoia, homophobia, and the poor treatment of children and the mentally unwell.
Richard Price, who earned an Academy Award nomination for his adaptation of The Color of Money, was selected to pen the adapted screenplay. Between this and an extraordinary cast—led by Hardy as Demidov—Espinosa could well be poised to surpass the remarkable success of his last effort. Though the action double-hander Safe House earned mixed reviews and a 53% on Rotten Tomatoes, it thrived at the box office, bringing in an extraordinary $208 million worldwide. Sadly, we'll have to wait until 2014 sometime to see how Child 44 will stack up.
In the meantime, Cassel will move on to headline first time filmmaker Ariel Kleiman's Partisana. In the drama co-written by Kleiman and Sarah Cyngler, the scintillating star will play a cult leader whose dangerous doctrine is challenged by the picture's precocious 11-year-old protagonist. Filming on Partisana will begin in Australia in October.
Staff writer at CinemaBlend.
Your Daily Blend of Entertainment News
Thank you for signing up to CinemaBlend. You will receive a verification email shortly.
There was a problem. Please refresh the page and try again.