Why Gone Girl Doesn't Work Without Margo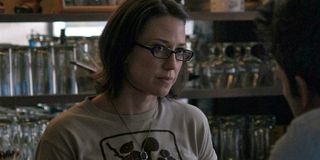 Warning: There will be spoilers at length for Gone Girl as this is a dissection of why the story does not work without one of its key characters. If you haven't seen the film yet, you might want to hold off on reading this analysis.
If one were to describe the central story of Gone Girl, it would be that of Nick and Amy Dunne. The husband and wife at the center of the murder mystery/scandal that makes up the core of Gone Girl, you wouldn't be mistaken for thinking that they were the most important characters to the story. In fact, that's exactly what they are – the most important character to the story. However, there's one character that's more important than Nick and Amy put together. A character who, without their existence, the audience would not have the proper surrogate to access the story. Indeed, if you're going to label one character as the most important to the Gone Girl movie experience, it has to be the character of Nick's sister, Margo "Go" Dunne.
Without Go, we wouldn't know how to react. Surely, you can quibble about whether Nick or Amy is in the right -- and both sides have been more than represented in the narrative that's been running through movie sites and audience feedback. However, no matter which side you come down on, you ultimately need Margo (also know as "Go," for short) in order to decipher the mystery at hand.
There are several examples in the film that prove this point. Take Go's reaction to Nick's affair with his student. Minutes after we've found this out for the first time, and Nick has shepherded his side action out the door, Margo is standing in the hall way ready to flip shit on Nick. This reaction is the natural reaction that anyone would have to discovering this news, and shortly after the audience has more than likely responded to Nick's tryst, we have Margo confirming that it's as much of a shock to her as it is to us. A fact that only further mitigates, but does not absolve Nick of his infidelities. If Nick was a serial philanderer, we'd know it because Margo would either shrug it off or mention his history in an off-handed remark while still remaining pissed off. Nick has not only betrayed his wife, but he's betrayed his sister by hiding this affair, and that might even be the more devastating side effect of his behavior.
Throughout the course of Gone Girl, we see Margo Dunne act as snarky commentator (the "wood" comment at the bar towards the beginning of the film,) reactionary audience member (the gummy bear target practice scene with Tyler Perry's Tanner Bolt,) and sympathetic party. That last role is particularly effective, because the bone-chilling ending that sees Nick staying with Amy for the sole purpose of being a good father to their unborn child is as disturbing to Go as it is to us. It is in this moment that we fully realize that Nick is trapped due to his actions, both wrongful and unintentional, and he will be doomed to fulfill the "'til death do us part" clause in his marriage vows. But Go's helpless reaction sells that drama.
David Fincher's film would be less effective if it didn't have Margo Dunne playing out the audience's reactions at various parts of the film. Without her reinforcement of our reactions, Gone Girl would be a more open-ended piece that could take on any shape or form when it comes to "the truth." But that's not the type of story Gillian Flynn was trying to tell, and it's not the type of movie Fincher was trying to direct. Gone Girl is supposed to be cemented firmly when it comes to the truth of the film's events, and the only wiggle room that should be left is that of debating whether you side with Nick or Amy. For a story that is heralded as a puzzle box of a mystery, it needs to have unmovable pieces that lock tightly and move the audience along to the right clue at the right time. Much like Amy's carefully crafted clues, Margo's reactions throughout the film are sign posts to where we've been and where we're heading. Without her, we'd have a harder time grasping the plot's true North.
Thanks to Gillian Flynn's smart and savvy writing, David Fincher's dedication to visuals that enhance the thematic materials, and, most important, Carrie Coon's pitch perfect portrayal as Margo "Go" Dunne, Gone Girl flourishes as a cinematic adaptation that does the story right. It's hard to imagine a film-version of this story without this character's wit and vulnerability on display, and it'd be an even harder story to follow if it wasn't for her guidance. After all, when in the twistiest of mazes, the participants need something or someone to guide them to the exit. For Gone Girl, it's Go.
Your Daily Blend of Entertainment News
Senior Movies Contributor
CinemaBlend's James Bond (expert). Also versed in Large Scale Aggressors, time travel, and Guillermo del Toro. He fights for The User.