Why Kevin Smith Liked Batman V Superman More On A Second Viewing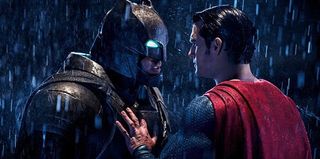 Despite the fact that it is already more than halfway to the billion-dollar mark at the global box office, Batman v Superman: Dawn of Justice has been subjected to many harsh reviews, from both fans and critics alike. One of these was filmmaker Kevin Smith, a well-known comic book enthusiast who has never been shy of sharing his opinion. After watching the film for the first time, he complained that, despite being gorgeous to look at, it lacked heart. That said, upon a second viewing, his stance softened and he found the heart in the film, though perhaps not where you might expect, and it incresed his enjoyment exponentially.
Kevin Smith took to Instagram for an extended note on an episode of The CW's The Flash that he directed, but he took some time to talk about his second viewing of Batman v Superman: Dawn of Justice as well. The Mallrats and Clerks director wrote:
Despite flaws and problems, there is, especially for comic book fans, an inherent joy in watching characters like Batman, Superman, and Wonder Woman show up on the big screen. Apparently for Kevin Smith, watching it with his long-time friend and fellow funny book obsessive Jason Mewes, the second viewing of Batman v Superman: Dawn of Justice tapped into his inner fanboy (though I don't know how far below the surface that actually lies, that dude loves him some Batman and Superman) in a way the first time failed to do.
Check out his whole post below:
Despite what Kevin Smith and many other fans and critics have said, this hasn't dampened worldwide enthusiasm for Batman v Superman: Dawn of Justice in any notable way. In just six days, the Zack Snyder-directed superhero throw down has already taken in north of $530 million globally, which isn't too shabby. And even amidst potential concerns that about its box office longevity, it's still going to end its run having made a ridiculous sum of money.
Your Daily Blend of Entertainment News