Why Michael Keaton Thinks The Birdman-Batman Comparisons Are Superficial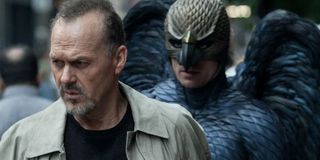 When you first see ads for Birdman, it's easy to make a comparison between real-life Michael Keaton and his character Riggan Thomson. Both became famous after starring in a massively popular superhero franchise, and both tried to make a name for themselves with other, more "serious" projects after a brief spell. Keaton was quick to denounce these similarities while out promoting the film, but in a new interview he gives further reason.
Collider has got a hold of a clip from the lead actor episode of EPIX and The LA Times' Hollywood Sessions roundtable series, which features discussions amongst prominent awards contenders. Joined by Eddie Redmayne (The Theory of Everything), Steve Carell (Foxcatcher), Benedict Cumberbatch (The Imitation Game) and Robert Downey Jr. (The Judge), Keaton was asked about comparisons between Birdman and his past playing Batman, but he explained why we needn't concern ourselves with such matters. Said the actor,
It was not as if it was so farfetched to suggest otherwise, though. Much like how Thomson came back in the spotlight on Broadway, Keaton too has returned to prominence with appearances in films like RoboCop and Need For Speed before earning critical acclaim in Birdman. This latest response from the actor, however, is much more subdued than the one he gave for a recent Hollywood Reporter feature. During the interview Keaton was asked about the movie mirroring his own "comeback" story, and Keaton responded, "I've never related less to a character," before retorting, "That's lazy and cliche. It's not me at all."
Perhaps it was the environment that prompted this lighter response. The five-part Hollywood Sessions series launched on December 8th with a lead actress roundtable, which featured the likes of Jennifer Aniston (Cake), Emily Blunt (Into the Woods), Shailene Woodley (White Bird in a Blizzard), Jessica Chastain (A Most Violent Year) and Gugu Mbatha-Raw (Beyond the Lights). Since we're getting closer to Oscar season and Keaton has already earned himself a Golden Globe nomination for Outstanding Actor in a Motion Picture, Comedy or Musical, there's no worse time for even mildly defensive remarks.
As Keaton says, there is much more to talk about in Birdman, anyway. His performance could very well earn an Oscar nomination for Best Actor, though he's got his work cut out for him if he plans to pull ahead of Redmayne's Stephen Hawking, Cumberbatch's Alan Turing or even David Oyelowo's Martin Luther King, Jr. (Selma). The nominations will officially be announced on January 15th, and we'd be surprised if Keaton walked away without a nod. You just don't strut your junk around New York City in whitie tighties for just any film. You can watch more of Keaton discussing Birdman when this episode of Hollywood Sessions airs tonight at 8 p.m. EST on EPIX.
Your Daily Blend of Entertainment News