Why Movie Theaters Probably Won't Start Adding Metal Detectors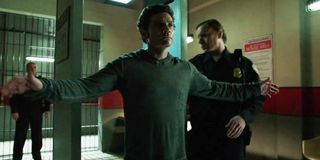 In 2012, James Holmes was arrested after opening fire inside a Century 16 movie theater in Aurora, Colorado during a screening of The Dark Knight Rises. Earlier this year, a gunman fired rounds into an Atlanta movie theater following a screening of the indie movie, Finnesse. This past month saw another such instance when John Houser stood up during a Trainwreck screening at The Grand 16 multiplex in Lafayette, Louisiana and opened fire before killing himself. And these are just two of the more widely reported circumstances. In the aftermath of such tragedies, many are wondering whether stricter security measures, specifically metal detectors, will be put into place in movie theaters across the country to better prevent further shootings. According to insiders, this is not likely to happen, though they believe there are other, better measures that should be taken.
According to The Hollywood Reporter, Michael Dorn, a security consultant, is one such insider. Based on his analysis, implementing metal detectors on a large scale is not a viable solution, citing the cost. He notes that it would require about $5,000 for the equipment and about $250,000 a year in order for personnel to implement a proper checkpoint. This number increases to $1 million in larger cities.
On a more basic, customer experience level, he said the process will be slow moving. Dorn said you'd have to ask your customers to come 30 minutes before screen time just to wait in a security line. Todd McGhee, another security consultant, sides with Dorn on this issue. He told the trade,
Despite the increase in mass shootings of this nature — as reported in a study published to The New York Times last year — people are still going to theaters. According to Paul Dergarabedian, an analyst for Rentrak, the shooting in Lafayette did not noticeably deter moviegoing that July 24 weekend. "It does not seem like there is an urgency to resort to such measures," he said.
Dorn and likeminded insiders believe there is another solution to better safeguard moviegoers, and that's more security training for theater attendants. While Dorn recommends hiring security personnel to educate employees for these situations, McGhee believes hiring armed security details are a better option.
THR notes that some theaters are already taking more precautions in light of the recent shooting. AMC Empire 25 in New York City and AMC Universal CityWalk 19 are two examples of theaters in larger cities that hire off-duty cops to provide more security, while the July 24 weekend saw more on-duty cops were utilized. Others are becoming more vigilante in checking the bags of attendees. According to Dergarabedian, "theaters are doing their best."
Do you think movie theaters need metal detectors? Let us know in the comments section below.
Your Daily Blend of Entertainment News
Thank you for signing up to CinemaBlend. You will receive a verification email shortly.
There was a problem. Please refresh the page and try again.