Why One Academy Member Refused To Vote For Whiplash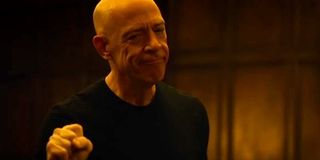 Whiz kid Damien Chazelle's five-time Academy Award-nominated film Whiplash has certainly resonated with movie-going audiences. Apparently, however, not everybody agrees with the accolades as proven by one staunch Academy member, who had very strong opinions for not giving the film his/her vote.
As part of THR's ongoing series of articles discussing with Oscar-voters their thoughts on this year's Academy Award-nominated films, one voter shared their blunt thoughts (most of which were negative) on why they didn't vote for Chazelle's music-pic, calling it too "offensive." Here's what the individual had to say:
While my first reaction to reading this voter's thoughts on Whiplash was to laugh (and to be clear not laugh at them but at their words), I have to take a step back and assume he/she is being sincere and not going for comedy. With that in mind, I guess it's a good thing that the film is striking such a deep chord with viewers. The Best Picture nominee clearly just lost itself a vote, and from the sounds of the above comment, purely by its choice of subject and foundational content, but resonating with an audience member on a level that provokes such a passionate response as this has to count for something, right?
Do I agree that Whiplash was "offensive?" Absolutely not! I also personally found the film to be very entertaining and, better yet, I found Simmons' portrayal of the abusive music instructor Fletcher to be nothing short of captivating. That said, everyone is entitled to an opinion.
In validating popular opinion of Chazelle's film, one need not look any further than Whiplash's stellar run on the award's circuit, which most impressively sees it in the running for the Academy's Best Picture. With one statue (for Best Supporting Actor) pretty much a lock, and the potential for a few more including Adapted Screenplay, Best Editing and Sound Mixing (although much less likely), the music-based drama's is certainly considered a contender. And while many of us here at Cinema Blend believe the J.K. Simmons-led film is more than deserving of its praise, this anonymous Academy-voter proves not everyone feels the same way.
As for the film taking home Best Picture? I unfortunately don't think it's in the cards. While Whiplash was definitely one of the best movies of the year, it isn't necessarily Best Pic material. More importantly, it is just a victim of top-tier competition. With frontrunners Boyhood and Birdman or (The Unexpected Virtue of Ignorance), as well as American Sniper and The Imitation Game, it's facing some of the stiffest competition in years.
Be sure to tune in to the 87th Academy Awards airing live tomorrow night at 7p.m. EST.
Your Daily Blend of Entertainment News
Your Daily Blend of Entertainment News
Thank you for signing up to CinemaBlend. You will receive a verification email shortly.
There was a problem. Please refresh the page and try again.