Watch J.K. Simmons Reprise His Whiplash Role By Yelling At SNL Cast Members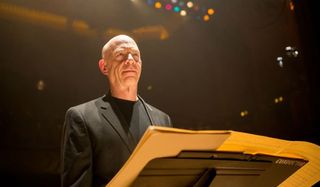 J.K. Simmons hosted Saturday Night Live for the first time last night, and for his opening monologue he did what every fan of his hoped for: reprised his terrifying Whiplash role. Watch as he rips apart drummer after drummer (played by SNL cast members) until a special guest star sets the harsh band conductor straight.
In order to prove that he is not nearly as mean and offensive as his conductor character, Fletcher, J.K. Simmons puts together an opening number with cast members, Kyle Mooney and Aidy Bryant. And while there was no chair throwing, or bleeding on the drum kit, Simmons was far from the 'nice guy' he claims.
Fletcher came out almost instantly, as Mooney struggled to keep tempo. Simmons used similar language as he does in the film Whiplash telling Mooney, "Kyle, that's not my tempo." It is the exact same way he started to show his true colors in the film, when Miles Teller's character gets his chance in the big leagues, and Fletcher goes from comforting to bringing the young man to slobbering tears. There was no crying per se, but there was a sense of fear lingering in the air as Simmons started to raise his voice.
But, within the mix of the intensity of Simmons reprisal of his character, there are some classic SNL one liners to lighten up the mood. The newcomer on the show, Pete Davidson, disappointed Simmons with his drumming attempt. He glares at Davidson that maybe he should practice as much as he smokes pot. To which Davidson responds:
Simmons brought down everyone. When Leslie Jones hit the stage (and the kit), Simmons didn't let up. But Leslie Jones called the actor out, telling him to "pump your brakes, dude". And that was the line that introduced the special guest. The man that would finally put Simmons' Fletcher persona to rest. The one and only Fred Armisen takes a seat in a familiar place.
In case you didn't know this, Armisen actually is a drummer and been playing since the '80s, and he's pretty darn good. So Simmons starts trying to put the former SNL cast member down by telling him to wipe his goofy smile off his face. But in Armisen's own adorable fashion he states:
Badass drum solo [drops mic].
While this wasn't Simmons best skit of the night, it definitely was a fun watch. Not only because Fred Armisen completely mocks Simmons character, but also the fact that Simmons, nominated for an Oscar for this role, can also make fun of it in his own way, and finally sneak a smirk in there.
Your Daily Blend of Entertainment News