Why Risky Business' Director Quit Hollywood Immediately After The Film's Release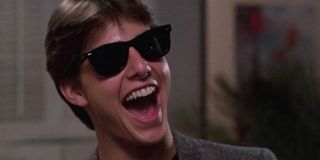 Risky Business was not only one of the most popular movies of the 1980s it also catapulted Tom Cruise to international stardom. One individual whose career actually stalled instead of erupting following the 1983 romantic comedy's release was its writer and director Paul Brickman. But, just under 33 years after Risky Business originally hit cinemas, Paul Brickman has explained that this was all of his own doing, admitting that he found the success of Risky Business uncomfortable to deal with.
Produced for $6.2 million, and ultimately going on to gross $63.5 million, Risky Business was also met with huge critical acclaim. In fact, Roger Ebert even compared it to The Graduate. Because of this success Paul Brickman was soon inundated with follow-up offers. But Brickman couldn't handle the visibility, and he became a recluse instead. In an interview with Salon, he revealed what happened.
Ultimately, Paul Brickman did go on to make his sophomore directorial effort with 1990's Men Don't Leave. But that was released in 1990, seven years after Risky Business had made him one of the hottest young filmmaking talents in Hollywood. It also didn't help that Men Don't Leave, which starred Jesica Lange, Chris O'Donnell, Joan Cusack, and Kathy Bates, was met with mixed reviews and grossed a million under its $7 million budget.
Paul Brickman revealed in the same interview with Salon that he received some hugely tempting scripts to direct, which included Rain Man and Forrest Gump, while he also admitted that he "squandered a really good career" by not taking "advantage of Risky's success to a far great extent."
Brickman also teased that one of the main reasons why he walked away from Hollywood was that his original ending for Risky Business was altered, with the studio insisting that a less cynical final scene be tacked on instead. This also came after Brickman had endured "some less-than positive experiences with other directors in terms" of his own screenwriting, too.
Unfortunately, this abuse of his work was too much for Paul Brickman to handle, and over subsequent years he's only co-written Clint Eastwood's True Crime and 2001's Uprising. It would have been interesting to see how Brickman would have honed his obvious talent in the wake of Risky Business' release, but, alas, that just wasn't the case. At least we'll always have Tom Cruise dancing in his underwear to "Old Time Rock And Roll" though.
Your Daily Blend of Entertainment News