Why Star Wars: Rogue One Might Be Even Better Than We Imagined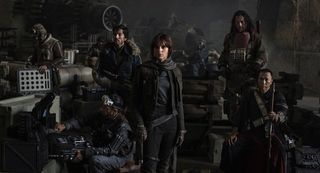 With a new trailer set to drop later tonight, most of the attention is, understandably, on Star Wars: The Force Awakens right now. But if one new rumor pans out, we have even more reason to get excited about the next movie in that far, far away galaxy, Star Wars: Rogue One, as they may have brought in a badass writer to awesome up the script.
According to Latino Review, Mission: Impossible — Rogue Nation director Christopher McQuarrie was recently brought in to do a two-week pass on the Rogue One script. There's no word about when in the process McQuarrie might have tackled the screenplay, but with his busy schedule as of late, doing promotion on a major movie and getting it ready for release, it could have been tricky to fit in. Still, this is only good news.
Though he has been working more as a director in the last few years, with Rogue Nation last summer and Jack Reacher in 2012, screenwriting is where he's made his bones. He first rose to prominence with the Oscar-winning The Usual Suspects, but he also wrote Rogue Nation, adapted Reacher, and penned Edge of Tomorrow, among other projects. The idea of him taking a pass at Rogue One is something that has us very excited around these parts. He's great at delivering big popcorn blockbusters that don't skimp on the grit, character, humor, or intelligence. Those are all things we want out of a Star Wars movie.
Rogue One has been filming now for a while, but the writer situation has been a bit of a revolving door. Gary Whitta handed in the original draft then bowed out. Simon Kinberg was rumored to be taking over, rumors that were quashed when Chris Weitz (Cinderella) was brought on board to give it a polish. If LR's sources are correct, and McQuarrie did go over the script, with just two weeks it probably wasn't a massive overhaul, but more of tightening things up and beefing up certain elements.
What we know of Rogue One makes is sound unlike most Star Wars movies that have come before. First off, it's a side story that doesn't really figure in to the main Episode saga. There is also going to be less of an emphasis on the Force, which likely won't have much of a presence at all. It has also been described as a gritty war movie, which is certainly something new for the franchise, and right in McQuarrie's wheelhouse.
Set between the events of Revenge of the Sith and A New Hope, the plot of the Gareth Edward-directed movie, as we understand it, revolves around the theft of the plans for the first Death Star. We've got a glimpse at the cast, which includes Felicity Jones, Donnie Yen, Diego Luna, Mads Mikkelsen, Forest Whitaker, Ben Mendelsohn, Alan Tudyk, and Riz Ahmed, and though there have been rumors of everything from bounty hunters to Darth Vader, most of the details are still under wraps.
Filming right now, Star Wars: Rogue One is scheduled for release December 16, 2016.