Why Steve Jobs' Ending Was Changed After It Was Screened For Critics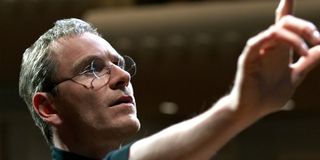 This story will dabble in light spoilers for Steve Jobs. Proceed with caution.
Back during the Telluride Film Festival, Danny Boyle billed the screening of Steve Jobs as a "work in progress." The filmmaker told press that he was still tweaking bits of the film, though the specifics were unclear at the time. During the press junket for Steve Jobs a couple weeks back, Cinema Blend sat down with Boyle, and he discussed the changes more in-depth, as well as their overall purpose.
The film, which is scripted by Aaron Sorkin, stars Michael Fassbender as the late Apple co-founder behind the scenes of three different product launches: the Mac computer, the NeXT cube after Jobs left Apple, and the iMac after his return. According to Boyle, it was important for the finale to reflect the theme of redemption, which is what he was tweaking between the film's screening at Telluride and now.
This journey centers around Jobs' relationship with his daughter, Lisa, who he denies is his child in the beginning of the film. Boyle emphasized that the film's portrayal of Jobs — versus the actual man — is "poorly made," though he has created incredible pieces of technology. The tweaks he made were more "nuances" that shifted just how Jobs achieved his ultimate redemption. Boyle said,
Watch the clip from our interview with Boyle below.
Steve Jobs stars a dynamite cast that includes Fassbender in the lead role, Kate Winslet as his close confidante and marketing expert Joanna Hoffman, Seth Rogen as Wozniak, Michael Stuhlbarg as Andy Herzfeld, Katherine Waterston as the mother of Jobs' child Chrisann Brennan, and Perla Haney-Jarine as the eldest version of Jobs' daughter Lisa. The film will hit theaters on October 9, then expend to more markets on Oct. 23.
Your Daily Blend of Entertainment News
Thank you for signing up to CinemaBlend. You will receive a verification email shortly.
There was a problem. Please refresh the page and try again.