This Is Why X-Men Fans Will Want To Buy The Rogue Cut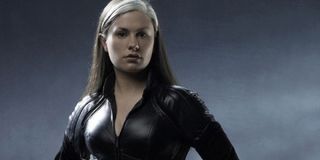 Fox Home Entertainment announced a few months ago that an extended "Rogue Cut" of X-Men: Days of Future Past would be released to include Rogue's storyline that was omitted from the original film, as well as extra footage featuring several different characters. To those interested in the Rogue Cut, but not interested in buying a second copy of Days of Future Past, it seems like the Rogue Cut will be its own, unique product, and definitely worth the purchase.
James Finn, the vice president of marketing communications for Fox Home Entertainment, has revealed on Twitter that the Rogue Cut will definitely not be a reproduction of blu-ray that features the theatrical version. Here's what he had to say when asked if the theatrical version of Days of Future Past would be on the Rogue Cut:
So it would seem that getting a copy of the Rogue Cut in addition to your Days of Future Past theatrical version wouldn't mean stocking your shelves with differently titled blu-rays that are essentially two copies of the same film. It is a pretty interesting move for Fox Home Entertainment to release the Rogue Cut without the original theatrical version with its own set of special features, but it definitely makes this version of the film seem much more exciting, and will offer fans the chance to see Anna Paquin's full part of Days of Future Past, not just the cut-weirdly quick cameo we saw of her at the very end of the film.
Beyond the fact that the Rogue Cut will be an entirely different product than the theatrical blu-ray, Finn was pretty coy about revealing other goodies we can expect to see. While we don't know much in the way of special features we can expect or the other characters who will be highlighted on the Rogue Cut, we do know the basic storyline around Rogue's role in Days of Future Past. Magneto and Iceman set on a rescue mission to free Rogue from a mutant concentration camp, and get Rogue to absorb Kitty Pryde's powers and take over for Kitty as Logan's time travel anchor.
Rogue fans were pretty bummed to not get much of their favorite mutant in Days of Future Past, especially after she tried out the promising (albeit temporary) mutant "cure" at the end of The Last Stand. While her part in the film was cut for pacing reasons, Fox knew immediately that Rogue fans would be incredibly upset to not to see more time from Paquin. Almost as soon as it was announced that Rogue's role in the film had been reduced to a cameo, Fox started talking about releasing a Rogue Cut. While we don't have an official release date of the Rogue Cut at this point, Finn did announce on his Twitter that we can expect the film to hit stores in the summer of 2015.
Your Daily Blend of Entertainment News
Thank you for signing up to CinemaBlend. You will receive a verification email shortly.
There was a problem. Please refresh the page and try again.