Why X-Men Solo Movies Really Don't Work, According To Shawn Ashmore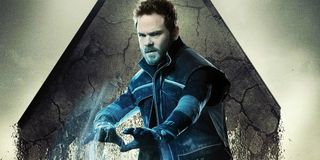 Disney's solo Marvel movies have been killing it. In fact, depending on who you ask, Captain America: The Winter Soldier is the best installment of the MCU. But can Fox's Marvel division pull off the same success with their solo films? We've only had two solo X-Men movies so far — X-Men Origins: Wolverine and The Wolverine, one of which was a major disaster. With Hugh Jackman's last Wolverine stint, Ryan Reynolds' Deadpool and Channing Tatum's Gambit coming down the pipeline, they could mean good things to come for the studio. However, one X-Men actor isn't convinced the solo X-Men movies are always viable.
Shawn Ashmore, who plays Iceman in the X-Men movies, recently spoke with IGN and relayed his thoughts on the subject. When asked about a solo Iceman movie, he said,
While Ashmore's statements pertain specifically to a solo Iceman movie, his thoughts permeate throughout the X-Men cinematic universe. Although Fox has found the most success with their major trilogy installments, it seems as though that's only because they haven't always had success in finding the right filmmakers to helm the solo projects.
James Mangold had a specific vision in mind for The Wolverine, and he understood the character and the source material. We haven't seen Deadpool yet, but based on what we've seen so far, it seems the same can be said of Tim Miller. Along with Reynolds, he's been championing a solo Deadpool movie for years, and it's his love for the character, his understanding of the character and why the film should be rated R, and his dedication to the comics that will make this film stand out. For Gambit, there are those who don't believe Tatum is the right man for the job, but he is passionate about the role. With Rupert Wyatt directing him through this project, it could become another gem for Fox.
Both Deadpool and Gambit are arriving in theaters next year, the first on February 12 and the second on October 7. The third Wolverine movie will drop the following year on March 3, 2017. When looking at this slate, it's difficult to apply Ashmore's thoughts to the larger cinematic universe because there have only been two solo X-Men films. Perhaps Deadpool will be able to change his mind.
Your Daily Blend of Entertainment News
Thank you for signing up to CinemaBlend. You will receive a verification email shortly.
There was a problem. Please refresh the page and try again.