The Willy Wonka Cast Just Reunited, Watch The Video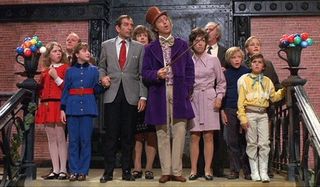 It's been over forty years since Willy Wonka And The Chocolate Factory arrived in cinemas and instantly charmed a generation of moviegoers. Despite looking a tad dated, the film still has a magical aura that means you can't help but fall in love with it every time you re-watch it. So the sight of six members of the Willy Wonka cast reunited on The TODAY Show this morning will have brought smiles to the faces of millions. You can check out the gang together again below.
Unfortunately, as you can see, a certain Gene Wilder wasn't in attendance to help commemorate the 44th anniversary of Willy Wonka And The Chocolate Factory. That might have you thinking that the motely crew The TODAY Show assembled had very little to do with the Willy Wonka And The Chocolate Factory. But that couldn't be further from the truth.
That's because they sat down to talk to Julie Dawn Cole, who played Veruca Salt; Rusty Goffe, who portrayed an Oompa Loompa; Pairs Themmen, who starred as Mike Teevee; Michael Bollner, who played Augustus Gloope; Denise Nickerson, who starred as Violet Beauregarde; and Peter Ostrum who took the lead role as Charlie Bucket.
Each of these characters was instantly beloved by the audiences watching them on screen, and you'll be glad to hear that the gang are still rather close to one another, too. In fact, because of their constant appearances at Comic Con-style events, each of which celebrate Willy Wonka And The Chocolate Factory's iconic status, they get the opportunity to see each other quite a bit. In fact, Paris Themmen even admitted:
But what sort of revelatory tidbits could the cast of Willy Wonka And The Chocolate Factory offer up? Well, it turns out that the luscious, rich river of chocolate that we all envisioned jumping in one day was actually far from tasty. It was just plain old "disgusting" water.
The sextet only had good things to say about working alongside Gene Wilder though, insisting that the actor never pushed his more juvenile co-stars away from him, and always had time to talk and listen to each of them.
However, those of you hoping that the six of them were either contemplating some kind of on-screen reunion or even had preliminary plans to start up their own chocolate factory will be sad to learn that only Rusty is still in the acting business. In fact, Peter Ostrum's early stardom as Charlie Bucket didn't manage to give him the acting bug for life. Instead, he's now a veterinarian.
Still, thanks to their work in Willy Wonka And The Chocolate Factory, Peter and the rest of the film's cast and crew created one of the most lasting adaptations in cinematic history, which still resonates to this day.
Your Daily Blend of Entertainment News
Your Daily Blend of Entertainment News
Thank you for signing up to CinemaBlend. You will receive a verification email shortly.
There was a problem. Please refresh the page and try again.