Winslet Replaces Kidman In Erotic Sex Drama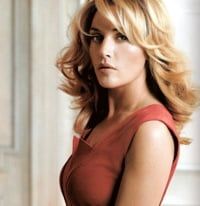 It's always weird when a high-profile star drops out of a movie, only to be replaced by another one. We spend so much time convincing ourselves that these stars matter because of their personalities, and that we care about each of them indiidually, but then we're reminded that, yeah, they're pretty much interchangeable pretty faces. It happened when Brad Pitt and Edward Norton both dropped out of State of Play (replaced by Russell Crowe and Ben Affleck, respectively), and now it's happened again with Kate Winslet and Nicole Kidman.
There have been rumors flying around about Kidman being pregnant for months now-- decades, if you count the ones from when she was married to Tom Cruise-- and now it turns out they're true. So hooray for Nicole! We hope your baby is as cute as Suri, though that's really a tall order. Anyway, pregnancy means no work when you're rich and famous enough to get away with it, so Kidman dropped out of the upcoming The Reader, a drama about a young man's erotic awakening at the hands of an older woman, set in post-World War II Germany.
It turns out the pregnancy was kind of a stroke of luck, though, since Kate Winslet was the first choice for the role, and now she's available to do it after all! See, miracles really do come true in Hollywood. She'll star opposite young German actor David Kross and Ralph Fiennes as an enigmatic woman who gains the attention of a younger man. Va-va-voom!
Anyone else remember the episode of Extras, in which Winslet played a World War II-era nun? That's pretty much all I can think about regarding this news, though I'm sure this new role has nothing at all to do with nuns. What it will involve, though, is awesome; Kate Winslet is a stone cold fox, Ralph Fiennes is a stone cold fox when he's not being Voldemort, and Nicole Kidman gets to go raise her baby in the lap of luxury. Everyone wins!
Your Daily Blend of Entertainment News
Staff Writer at CinemaBlend