Winter Sleep Wins The Palme d'Or At The Cannes Film Festival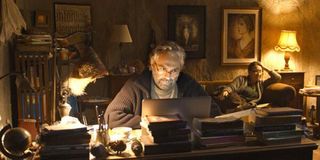 It was a loaded field of competitors at Cannes this year, with new films from David Cronenberg, Bennett Miller, Xavier Dolan, Mike Leigh and Jean-Luc Godard. The jury had to make some difficult decisions (and some not so difficult decisions), as there was no runaway favorite like last year's Blue Is The Warmest Color. But in the end, the festival decided to honor a frequent attendee in a gesture that honored a long cinematic legacy, giving the Palme d'Or to Nuri Bilge Ceylan's Winter Sleep.
The Cannes prizewinners were announced this weekend, and Ceylan's three-hours-plus opus Winter Sleep was the top winner. The film tracks the relationships developed between a hotelier in Anatolia and the relationships he has with people he disdains. This win occurred on the 100th anniversary of the birth of Turkish cinema, and is one of Ceylan's many honors at the fest: previously, he won the Gran Prix (basically second place) for Distant and the moody, funny Once Upon A Time In Anatolia. He won the Best Director prize for the neo-noir Three Monkeys as well. Ceylan is very much one of the world's most fascinating and accomplished filmmakers, and the hope is a distributor can get Winter Sleep out there beyond the usual arthouse audience.
The Gran Prix went to The Wonders, an Italian autobiographical story of beekeepers from director Alice Rohrwacher, and while that sounds like a parody of a Cannes film we just invented, we assure you it is totally real: Rohrwacher's only other film, Corpo Celeste, premiered during the Directors' Fortnight portion of the fest in 2011. Bennett Miller took home Best Director for his star-filled Foxcatcher, the long-delayed drama with Steve Carell, Channing Tatum and Mark Ruffalo.
Though Timothy Spall has taken on a number of big American roles, he's also worked with collaborator Mike Leigh five times, and with Mr. Turner he's taken home the Best Actor prize at Cannes. This is the third performance from a Leigh film to win an acting honor after Brenda Blethyn in Secrets And Lies and David Thewlis in the brilliant, acidic Naked. Best Actress went to Julianne Moore for her role in Cronenberg's Maps To The Stars.
And a Jury Prize, usually considered a third place designation, was shared between the youngest and the oldest directors in competition. 25 year old Xavier Dolan's fifth film Mommy shared the prize with 83 year old innovator Jean-Luc Godard's playful prankish 3D film Goodbye To Language. It's Cannes in a nutshell, excitement and innovation spanning the history of cinema, from Dolan and the promises of tomorrow, to Godard and his reinvention of the medium during the French New Wave. These films will all earn releases, some of them quite small. Find a way to see them, to watch the evolution of film, to try something off the beaten path. Our film culture is a rich one, and there's much to discover beyond what's currently clogging up multiplex theaters.
Your Daily Blend of Entertainment News
Thank you for signing up to CinemaBlend. You will receive a verification email shortly.
There was a problem. Please refresh the page and try again.