With Ratner Out Of The Oscars, Will Eddie Murphy Follow Suit?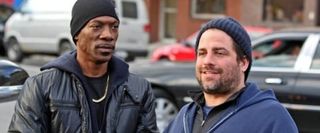 As you've probably heard by now, yesterday Brett Ratner handed in his resignation as producer of next year's Academy Awards, finally contrite after a series of disastrous public appearances that led to him saying "rehearsal is for fags" and essentially making a fool of himself . It was probably inevitable that Ratner would resign given how much criticism he was getting, from people who probably didn't want him tackling the job to begin with, but another question remains: will Eddie Murphy follow suit?
Ratner brought on Murphy to host the Oscars back in September, and during the press rounds for Tower Heist the two talked vaguely but excitedly about their plans to work on the ceremony together. It seems pretty certain that no director other than Ratner, whom Murphy likes so much they were planning another movie together, could get Eddie Murphy back to the Oscars stage where he lost out on a Supporting Actor statue five years ago. Murphy's one of the most exciting host choices they've made in years, and his stand-up background makes him a natural fit for the awards, but Murphy is also a very prickly guy who has spent more than two decades working only with who he chooses. I have no doubt Ratner sweet-talked Murphy into the job, but now that Ratner is out, will Murphy sweet-talk his way back out?
No doubt it'd be better for him to stick around. Not only would Murphy resigning send a very strange message-- "Yeah, I'm with Brett-- rehearsing IS for fags"-- but it would be giving up one of the best PR opportunities he's had to refresh his image and get people caring about him again. Tower Heist was the beginning of that, and there's a reason Murphy did press for that film when he hadn't done interviews in years. But the Oscars, again, are one of the most-watched TV broadcasts of the year; it's guaranteed that more people will see it than saw Tower Heist, and there will be plenty who could tune in to see Murphy alone.
But Eddie Murphy is a man who likes things to go his way, and if the Academy doesn't pick a replacement producer who suits him, it's totally plausible that Murphy would walk. Then again, given Murphy's own history with the word "fag," the Academy might get really overreactionary and scrap Murphy too. That would be the stupidest move of all, but right now they're in the middle of a PR nightmare-- people make some dumb decisions when they feel under the gun. I'm hoping that by some miracle Murphy sticks around and does the hosting job we all know he's capable of. Eddie Murphy was funny and brilliant and perfect for this job while Brett Ratner was still in high school; hopefully Murphy himself can remember that too.
Staff Writer at CinemaBlend
Your Daily Blend of Entertainment News
Thank you for signing up to CinemaBlend. You will receive a verification email shortly.
There was a problem. Please refresh the page and try again.