X-Men Director Says Christopher Nolan's Style Of Comic-Book Movie Is Dead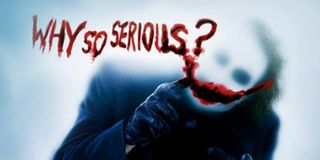 Christopher Nolan's The Dark Knight trilogy is one of the most beloved sets of Batman movies ever made. It set the standard for all those dark and gritty comic book movies to come. From Man of Steel to Sin City to Watchmen, this sub-genre has run rampant, with even more being planned by the second. When will audiences get sick of this dark, somber style of comic-book adaptation? According to Matthew Vaughn, the time has already come.
In an interview with SFX magazine, the director of X-Men: First Class and Kick-Ass said that everyone is over all those dark comic book movies. In the same breath, he also praised Marvel's proven formula for making over their comic canon into mainstream hits. Vaughn said:
This probably explains why his upcoming comic book movie, Kingsman: The Secret Service, looks like such a rip-roaring time. An ode to British spy films from the '70s, it's a tale about a boy inducted into a secret society of agents with sprinkles of Samuel L. Jackson's signature "fuck you"-style humor.
If Vaughn's statement about the current state of this genre is to be believed, though, then it kind of sucks to be Superman. While Christopher Nolan has said he won't be directing another superhero movie — at least not anytime soon — he did consult on the screenplay for Man of Steel and has returned to executive produce its follow-up, Batman v Superman: Dawn of Justice. Both of these titles are establishing this cinematic universe as a no-jokes-allowed playground for the Justice League characters. We did see a few jokes cracked here and there, but for the most part Zack Snyder's Superman movie was all dark and brooding, action-packed fun. This was one of fans' biggest grievances, and hopefully Batman v Superman will learn from the first go around.
One obvious exception, though, is the upcoming Shazam movie, starring Dwayne "The Rock" Johnson as Black Adam. A while ago, New Line President Toby Emmerich told Entertainment Weekly that this film, as opposed to the other titles in the Justice League line-up, "will have a sense of fun and a sense of humor."
It'll be interesting to see how DC takes us through its cinematic universe as we hit standalone Wonder Woman, Aquaman and The Flash movies before reaching the two-part Justice League movie. While they do (and should) need to separate themselves from what Marvel is doing, hopefully they can liven things up a bit.
Why so serious, DC?
Your Daily Blend of Entertainment News