You Can Count On Mark Ruffalo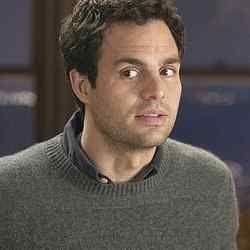 After the extremely sad family emergency Mark Ruffalo experienced in December, it's no wonder that he decided to cancel his plans to direct Sympathy for Delicious. Well, after a rocky road, the film is back into pre-production, with one major casting change. James Franco's role has been given to Orlando Bloom, according to THR. After recently viewing Pineapple Express on DVD, this casting decision seems like a travesty, but not the issue to focus on in this article.
Sympathy for Delicious was written by first time screenwriter Christopher Thornton. The plot follows an L.A. DJ who happens to by paralyzed. In a desperate attempt to gain control of his limbs, the DJ goes to a faith healer. Instead of the healing working for him, he gains the ability to heal others, but not himself. Thornton, who is paralyzed from the waist down in real life, will play the supernatural DJ.
Pretty boy Bloom will be playing the lead singer of the hard core rock band that DJ Delicious joins after gaining notoriety as a healer. Ruffalo's co-star from You Can Count on Me, Laura Linney, will be playing the band's manager, with Ruffalo portraying a priest. Potentially awesome director? Check. Semi-great cast (minus Bloom)? Check. Amazing sounding script? Check. This film is sounding like the next big indie sensation... hopefully it will have awe-inspiring music to go along with it.
Your Daily Blend of Entertainment News