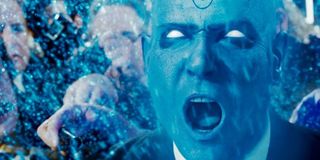 You may recall that recently producer Joel Silver held court in regards to Terry Gilliam's unmade adaptation of Watchmen. That version, penned by Sam Hamm, remains a mystery to most, though Silver shared the considerably different ending to the material. Deviating far from the source material, it essentially rewrote the entire mythos, a step that Zack Snyder was not going to take with his Watchmen. Silver didn't seem to be a fan of Snyder's film, calling him a "slave" to the material.
Well, Snyder's not going to take that lying down. Silver's got the No. 1 movie in America with Non-Stop, but Snyder and his wife Deborah have produced 300: Rise Of An Empire. It's a showdown before we even mention Watchmen. When The Huffington Post talked to Snyder about these comments, he had plenty to say, particularly in regards to that ending.
Well then. The director of Rise Of The Guardians: The Owls Of Ga'Hoole is going to save movies from the Terry Gilliams of the world. SHOTS FIRED. Snyder goes on to call the ending "completely insane" and labels his film a "satire," proving either he misunderstands the word or has absolutely no sense of humor. You can see where he's coming from in regards to Gilliam's version changing the meaning of the graphic novel, however, and he probably knows a lot more about the aborted Gilliam-Hamm collaboration than any of us. What's interesting is this statement he makes…
The fact that the internet fanboy culture has swells and dips is obvious to any of us. But what separates Gilliam's ideas from Snyder's is that here, Snyder is actively discussing his audience. Had Gilliam made the movie today, the term 'fanboy' would be banished from Gilliam's office. One of these filmmakers clearly had regard for the fan, and the other didn't. Ultimately, who is right? Debate in the comments below.
Your Daily Blend of Entertainment News