Zoe Kravitz Reveals What She Saw On The Set Of The Hunger Games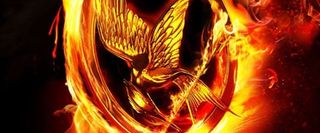 No, she isn't in The Hunger Games herself, but Zoe Kravitz is just as close to the production as anyone else courtesy of her father, Lenny Kravitz, who plays the District 12 stylist Cinna, not to mention her X-Men: First Class co-star Jennifer Lawrence who stars as Katniss Everdeen. While chatting about her upcoming release, Beware the Gonzo, Kravitz took the time to field some questions about the start of the highly anticipated four-film series.
It just so happens, Kravitz recently visited the North Carolina set to spend some time with Lawrence and her father. When not having slumber parties at the hotel, Kravitz took a quick peek at the set, which she calls "beautiful," and got to see Caesar Flickerman himself, Stanley Tucci, who she said is "looking awesome." Sure, it would have been great to see the arena action, too, but understandably, Kravitz notes that she heard "the forest stuff was apparently really intense and crazy and hot and buggy and gross." Check out the whole video below.
While Kravitz admits she's never read the books, I'd like to bet her Beware the Gonzo co-star, Ezra Miller, did as he's incredibly excited for the film and seems to know a bit about the details. Be sure to keep an eye out for the full interview with Kravitz and Miller, just before the theatrical release of Beware the Gonzo on September 9th.
Your Daily Blend of Entertainment News
Staff Writer for CinemaBlend.
Your Daily Blend of Entertainment News
Thank you for signing up to CinemaBlend. You will receive a verification email shortly.
There was a problem. Please refresh the page and try again.