Zombie Comic Z-Men Getting A Feature Film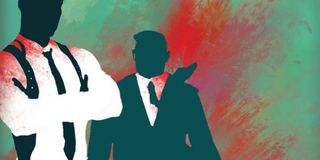 In December 2014, video game publisher Take-Two Interactive Software, the makers of such popular smash gaming hits as Grand Theft Auto and Bioshock, announced plans to launch a comic book imprint. Cleverly named Double Take, it looks like the company is about to go to the movies, as their undead themed series, Z-Men, has been picked up by Lionsgate for a feature film adaptation.
According to The Hollywood Reporter, Z-Men will be scripted by its comic creator Jeff McComsey, and the deal marks the second adaptation by Lionsgate of a Take-Two property. Lionsgate Motion Picture Group co-chairs Rob Friedman and Patrick Wachsberger issued this short, but enthusiastic, statement regarding the deal:
The studio is also working with former Marvel Studios producers Avi and Ari Arad to adapt Gearbox Software's Borderlands into its own would-be blockbuster.
Z-Men is the publisher's flagship title, and it follows Stuart and Clancy, members of President Lyndon B. Johnson's Secret Service. They are are sent on a mission to Pennsylvania, and have been asked by LBJ to bring him back a zombie, dead or alive. It isn't long before the buddy cop duo discover that they have found themselves in the middle of a full blown zombie nightmare, with the undead ambling around town and dining on some of the town folk.
Double Take launched Z-Men, along with the nine other titles in the Ultimate Night Of The Living Dead series. This was part of what the company called a "big bang," as they launched every title in the lines on the same day, following a successful Kickstarter campaign. As the name suggests, all of those titles were based on the iconic 1968 zombie horror classic created by George A. Romero. Ultimate Night Of The Living Dead fleshed out the franchise by telling stories before and during the events of the original film, and it's as fertile a ground for comic material as it is for a possible series of films.
However, this is the movie making business, and while we've seen crowd-sourcing pave the way for cinematic glory before, it's going to take a lot more than that to put a comic book movie into play in an already saturated market. That means this film is going to need to be made marketable. However, despite the fact that Z-Men is an unknown quantity as a comic series, it has so many ties to Night Of The Living Dead that it could practically bank on its name alone. In fact, it wouldn't be that surprising if the first trailer to Z-Men, which could even potentially serve as a new George A. Romero film project, would look like a spoof on the trailer to the original film – as seen below:
Z-Men has no production timeline in the works, but here's hoping this project is as death proof as the hordes of zombies that will inhabit it.
Your Daily Blend of Entertainment News
Thank you for signing up to CinemaBlend. You will receive a verification email shortly.
There was a problem. Please refresh the page and try again.