How Marvel Is Sticking It To Fox Over The X-Men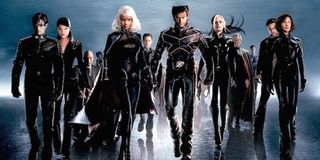 Although Marvel Studios has retained/gotten back the film rights to most of their characters, 20th Century Fox still has a slight hold over them by still owning basically any hero or villain associated with the X-Men or Fantastic Four. Because of this, recent actions within their comic books have fans wondering if Marvel is trying to stick it to Fox - like canceling the Fantastic Four book (a move attributed to low sales) and major X-Men and Fantastic Four characters being left out of a universe-representing poster. While Marvel maintains these actions aren't vindictive or meant to strike back at the rival studio, their latest move doesn't help their case much, as they're putting a target on the back of every mutant in the Marvel universe.
The House of Ideas has released several preview pages for its upcoming ongoing series Extraordinary X-Men (found via Blastr). In them, it's revealed that a purer form of the Terrigen Mist - the substance that activates an Inhuman's latent abilities upon exposure - has been released, and it's been revealed that it's lethal to mutants. A look into the near future shows that this eventually evolves into a new disease that is not only wiping out mutants, but also sterilizing the survivors. In other words, if left unchecked, mutants could go extinct. Yikes!
So how does this possibly affect the movies? Well, the worst case scenario is that Marvel is trying to put more pressure on Fox to sell back the X-Men properties by phasing out mutants within the comic book universe. Since Marvel doesn't have the film rights to the X-Men, why dedicate as much attention to them when they could focus on characters they fully own? Hence, mass eradication… if the disease spreads further, that is. However, it's doubtful that would affect Fox right now since they are moving forward with their X-Men cinematic universe - from core franchise films like X-Men: Apocalypse to spinoffs like Gambit. Unless something drastic happens (like a Fantastic Four reboot-level bomb), the mutants aren't going anywhere. One should consider that this Extraordinary X-Men surprise may just be a simple plot twist within the comics and isn't actually representational of ulterior motives by Marvel.
While the X-Men and other assorted mutants are still roaming around the Marvel universe, the Inhumans, who made their debut in 1965, have gained more prominence in recent years both in the comic book world and live action. In the Marvel Cinematic Universe, the Inhumans are effectively substitutes for mutants as the race of "naturally" powered superhumans on Earth. They were introduced during Agents of S.H.I.E.L.D. Season 2, and will play an even bigger role in Season 3. On top of that, an Inhumans movie is finishing off Marvel's Phase Three slate of films in 2019. It wouldn't be surprising if the Inhumans effectively become the new "mutants" to reflect what life is like in the MCU, though we find it hard to believe that most of the main X-Men characters will ever be permanently killed off (these are superhero stories, after all).
It's worth noting that Extraordinary X-Men is only one of the several X-Men related titles that are emerging from Marvel's "All-New, All-Different" relaunch. Others include All-New Wolverine, Old Man Logan and Uncanny X-Men, so it's clear that Marvel hasn't given up on the X-Men entirely, comic book-wise. That said, fans will want to keep an eye out in the next year or so for any other developments by Marvel (deliberate or just appearing that way) to move characters they can't use in their films to the sidelines.
Connoisseur of Marvel, DC, Star Wars, John Wick, MonsterVerse and Doctor Who lore. He's aware he looks like Harry Potter and Clark Kent.
Your Daily Blend of Entertainment News
Thank you for signing up to CinemaBlend. You will receive a verification email shortly.
There was a problem. Please refresh the page and try again.