The Fear Monger: Night Of The Living Dead Might Get A Sequel In This Form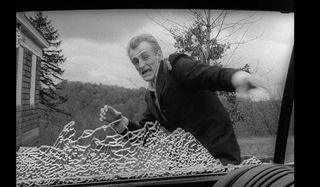 Good day, horror fans. Has anyone had to go back to the store to pick up more Halloween candy after eating the first batch, or is that just me? There isn't too much going on in theaters around the country this past week, though the VOD scene lit up with the releases of both the meta-remake The Town That Dreaded Sundown and the awesome-looking New Zealand comedy horror Housebound.
In smaller news, Relativity has moved The Woman in Black: Angel of Death from January 30, 2015 to January 2, 2015. Making their way to Blu-ray from Shock Factory are a Lord of Illusions Director's Cut, as well as the TV remake of Carrie and the big screen sequel The Rage: Carrie II. Universal has acquired and given an April 10, 2015 release date for the thriller Cybernatural, which will take place entirely on a computer screen. And now, they're coming to get you, Barbra.
George Romero's Son Wants to Carry on the Zombie Legacy
Like father, like son. Living Dead franchise creator George Romero's son Cameron wants to tell the origin story of the zombie as his dad envisioned it, and he's created an Indiegogo project to handle part of the funding. (George will be partially producing it.) Cameron is looking for $150,000 to fund it, and has already reached over $24,800 in just five days. It seems likely that this will get funded by the time its November 15th deadline hits. While part of me wants to balk at this, it is the sub-genre's godfather backing it, both in vision and in genetics. Check out the promotional Indiegogo video below.
Origins will take place in 1962 and will tell the story of Dr. Ryan Cartwright, who "was on the scientific and altruistic path to find a way for humans to sustain life in the event of M.A.D. (Mutual Assured Destruction), a huge topic brought on by the Cuban Missile Crisis." Cartwright eventually creates whatever sets the zombie outbreak in motion as a government project, thus hitting upon the socio-political angle that George Romero put into his zombie flicks. Regardless of whether you think this is a dumb idea or not, all it takes is $10,000 to make yourself a featured zombie death in the film. Totally worth it. Does the ability to tell quality zombie stories run in the Romero family?
Leatherface Prequel May Have Found its Directors
As you all may or may not know, the Texas Chainsaw Massacre franchise is gearing up for its latest installment, titled Leatherface, and it will focus on the disturbed murderer's teenage years. Prom king in the making, am I right? The screenplay is being written by first-timer Seth M. Sherwood, and the hunt for a director is on. According to Bloody Disgusting, Millennium Films is interested in giving the gig to one of two pairs of directing partners.
First are French directors Alexandre Bustillo and Julien Maury, the duo most famous for 2007's gorehound-friendly Inside (À l'intérieur). They've also directed the supernatural 2001 fantasy Livid and this year's Among the Living, along with a segment in ABCs of Death 2 - so they're absolutely capable of pulling off something that can get messy but still maintain a certain aesthetic. The other filmmakers in question are Kevin Kolsch and Dennis Widmyer, the guys behind one of the summer's most popular festival horrors, Starry Eyes. Previous to this, they directed the ultra-cheap 2009 thriller Absence (that I only know exists because of IMDb) and the documentary Postcards from the Edge: The Chuck Palahniuk Documentary. I can't speak for what these two are capable of, though Starry Eyes hits theaters on November 14th. What are everyone's thoughts on either of these pairs getting behind the camera?
Anton Yelchin and Imogen Poots Have Joined A Killer Skinheads Thriller
Back in 2011, actors Anton Yelchin and Imogen Poots starred together in Craig Gillespie's Fright Night remake, and now they're reteaming for the indie thriller Green Room. This will be the third feature for director Jeremy Saulnier, who directed the enjoyably bloody Murder Party and the stellar slow burn thriller Blue Ruin. The latter's star, Macon Blair, has also joined Green Room's cast, along with Alia Shawkat (Arrested Development), Mark Webber (Scott Pilgrim vs. the World), Callum Turner (Queen and Country) and Joe Cole (Peaky Blinders).
This sounds like another would-be generic thriller with a Saulnier twist. According to THR, Yelchin will play the lead singer of a punk band whose middle-of-nowhere concert takes a dangerous turn after the band witnesses a murder. The band soon becomes trapped inside the venue's green room as a gang of skinheads tries to kill them. Poots will star as the friend of the person who is killed and switches friend groups from the skinheads to the band as the film goes on. Blue Ruin, though it had its faults, is a perfectly paced revenge story, and here's hoping Saulnier only gets better from there.
Hangar 10 Echoes Area 51 in Conspiratorial New Trailer
I've often spent time in this column half-apologizing for the constant free pass I give found-footage and faux docs, and it's happening again with Daniel Simpson's Hangar 10 - which now has a spook-filled trailer. The premise focuses on the "famed" claims of UFO sightings in Rendlesham Forest in Suffolk, England, and the three main characters are metal detector enthusiasts who are searching for gold when they see and capture footage of the UFOs in action. Of course, that's when things quickly go south for the group, as an alien presence makes their days numbered. Quite literally.
Simpson is a relative newcomer, having directed 2010's Spiderhole, but Hangar 10 has a handful of decent producers who were behind some of the more jarring indie U.K. thrillers of the past decade. I love thrillers like this from across the pond, as there is usually a good hook beneath the stereotypical plot points. The characters don't get on my nerves in the trailer, and I dig all the UFO stuff. That hardly equals a great feature, but as long as the flick doesn't cause eye-rolls for its entire runtime, I'm game for the duration. Hangar 10 will touch down in theaters and on VOD on November 7.
Dark Summer Gets Creepy Trailer, Poster and Release Date
I was a big fan of Paul Solet's 2009 horror Grace, though it certainly has its naysayers. I have a feeling his next film, Dark Summer, will split audiences in much the same way. IFC Midnight has acquired the North American rights to the film, which is described as "a stylized contemporary ghost story about a home-alone teenager on house arrest who experiences a terrifying experience." They'll be putting it out in theaters and on VOD starting January 9, 2015. Check out the poster below and watch the film's first trailer here.
Peter Stormare stars as a cop named Stokes who is looking after a teenager, Daniel (Keir Gilchrist), placed on house arrest. The kid is obsessed with finding this girl, but then he gets told, "You will feel what I feel," and then everything starts to go crazy for him. He's haunted, I guess, and it's a situation that calls for rhyming phrases and technological mayhem. If it's anything like Grace, it's going to go to some pretty dark places as often as possible. And at least it doesn't also use a Ouija board.
Your Daily Blend of Entertainment News
Assistant Managing Editor
Nick is a Cajun Country native, and is often asked why he doesn't sound like that's the case. His love for his wife and daughters is almost equaled by his love of gasp-for-breath laughter and gasp-for-breath horror. A lifetime spent in the vicinity of a television screen led to his current dream job, as well as his knowledge of too many TV themes and ad jingles.