Zooey Deschanel To Play Enchantress Of Numbers Ada Lovelace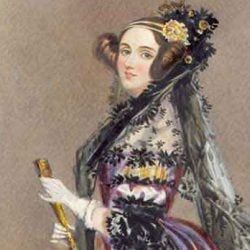 Zooey Deschanel could be argued as a geek icon of the moment-- she's the accessible, quirky movie star with a good fashion sense and decent taste in acting roles, and she's married to Death Cab for Cutie's Ben Gibbard, who is pretty much the definition of geeky guy made good. But before there was the likes of Deschanel and Olivia Munn for nerds to go nuts over, there was Ada Lovelace, a 19th-century English mathematician whom some have called the world's first computer programmer.
Lovelace was so regarded for her skills with math and programming that she was dubbed "Enchantress of Numbers," which will also be the title of the biopic about her that will star Deschanel. Bruce Beresford, known for Driving Miss Daisy and Double Jeopardy but having directed pretty much no movies of note otherwise, is planning to direct the film and start filming this fall. Deschanel isn't a big enough star for this to be a guaranteed comeback for Beresford, and period dramas about mathematicians aren't generally box office slam dunks. Beresford's last film, Mao's Last Dancer, came out last year and starred Kyle MacLachlan and Bruce Greenwood, and yet this is the first I've heard of it. Is it possible that Deschanel's big period drama debut will also go unnoticed?
Regardless, just look at that picture of Lovelace above-- she's totally a good physical match for Deschanel, and it will be interesting to see what the actress can do when not playing a thoroughly modern woman. Now the tougher part will be the convince all the boys who crush on her to see her in a period biopic about math.
Your Daily Blend of Entertainment News
Staff Writer at CinemaBlend