Daniel Craig And Channing Tatum's NASCAR Heist Thriller Is Building An Incredible Cast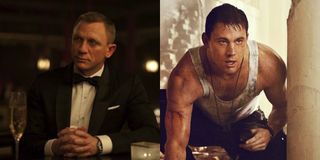 Who knew that NASCAR could serve as the backdrop for a heist thriller? Apparently Steven Soderbergh, that's who. Although it's very early in its development, Logan Lucky is shaping up to be one of the most intriguing thrillers in recent memory. Not too much is known about the project, but we know that Soderbergh has enlisted the acting talents of Daniel Craig and Channing Tatum as a pair of brothers who stage a daring robbery during a major NASCAR race.
However, it obviously takes more than a talented director and a pair of equally talented lead actors to tell a compelling heist story. According to a new report from THR, Logan Lucky has enlisted some incredibly stellar actors to fill out the supporting roles in the ensemble. Across the board, it's a talented band of actors and actresses, so let's get the ball rolling with the Oscar winner of the bunch...
Hilary Swank
The first performer confirmed to have joined the cast of Logan Lucky is none other than Oscar winner Hilary Swank. Out of all the actors present on the roster for the film, Swank has arguably the most impressive resume, having previously garnered two Oscars for her work on Boys Don't Cry, as well as Million Dollar Baby. We don't know the exact nature of the role she will play in Logan Lucky, but she's historically particular about the parts she picks, and we can likely assume she will bring her trademark intensity to the film.
Michael Shannon
These days, if you need to cast an actor to portray an all-around bad dude, there's no better performer to turn to than Michael Shannon. An incredibly skilled actor with a diverse portfolio of roles, Shannon has made a name for himself in the world of indie films with movies like Midnight Special and 99 Homes, as well as major blockbusters like Pearl Harbor and Man of Steel. Although we don't have many details about his role in Logan Lucky, we can reasonably expect Michael Shannon to once again embody the sort of vile character he's so good at portraying.
Katherine Heigl
Here's where things get a little more interesting. Although she achieved famed fame for her roles in Grey's Anatomy, 27 Dresses and Knocked Up. Katherine Heigl hasn't really appeared in many noteworthy films in recent years. That being said, she's an undeniably talented actress, and her place within the talented ensemble of Logan Lucky could signal the beginning of the Katherine Heigl comeback very soon.
Adam Driver
Unlike Katherine Heigl, whose career has decline somewhat in recent years, Adam Driver has slowly, but surely, become a household name with a strong resume of roles. First gaining notoriety in the hit HBO series Girls, Driver has made a swift transition to the silver screen with roles in Inside Llewyn Davis, and While We're Young. However, the former soldier's biggest break came last year with his career-making role as Kylo Ren in The Force Awakens.
Seth MacFarlane
Although he has become a household name over the course of the last two decades with his work in the field of animation, Seth MacFarlane doesn't have too many live-action credits to his name. His most recent effort -- 1,000 Ways To Die In The West -- fell fairly flat at the box office, but it's clear that he has more talent as an actor than he ever gets credit for. If his role in Logan Lucky is received well by critics and audiences, this could mark the beginning of a brand new Seth MacFarlane on the silver screen.
Riley Keough
The final confirmed member of Logan Lucky's cast, Riley Keough has made a very good impression on critics and audiences in a very short amount of time. She has appeared in numerous films, ranging from The Runaways, to Mad Max: Fury Road, and, most recently, The Girlfriend Experience. Logan Lucky will mark her reunion with director Steven Soderbergh following their work on 2012's Magic Mike, so the iconic director clearly sees something in this young talent.
With such a talented ensemble of actors and a noted visionary behind the camera, Logan Lucky could be the thriller to beat in the near future. We will bring you more information related to the upcoming NASCAR heist film as it becomes available to us.
Originally from Connecticut, Conner grew up in San Diego and graduated from Chapman University in 2014. He now lives in Los Angeles working in and around the entertainment industry and can mostly be found binging horror movies and chugging coffee.
Your Daily Blend of Entertainment News
Thank you for signing up to CinemaBlend. You will receive a verification email shortly.
There was a problem. Please refresh the page and try again.