Suicide Squad Has Some Massive Plans For Comic-Con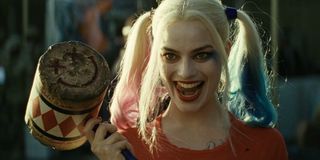 Following the mediocre response to Batman V Superman: Dawn Of Justice, there's an awful lot riding on Suicide Squad. Warner Bros. is hopeful that the blockbuster will rejuvenate the DC Extended Universe, and in order to give it the best possible platform to do just that, they're going to give Suicide Squad a huge push at Comic-Con.
According to The Hollywood Reporter, DC Entertainment and Warner Bros. Pictures have organized a number of events that revolve around the blockbuster at the annual San Diego gathering in July, which they believe will be the perfect start to Suicide Squad's promotional campaign ahead of its August release date. This will include several members of the cast turning up to perform their duties at Comic-Con, the crescendo of which will be Warner Bros.' Hall H presentation for the film. Meanwhile, the Suicide Squad cast will then record a special episode for Conan O'Brien's titular TBS talk show on Saturday, July 23, too, which will then be broadcast to the public at home later that very same evening.
Suicide Squad fans who are lucky enough to be at Comic-Con will also have an opportunity to get up close and personal with several of the cast members, too. That's because a posse of them will also be appearing at the DC Entertainment booth that's located on the convention floor during the day, where they'll sign various items for fans as well as pose for pictures and, you'd assume, just generally talk good things about working on Suicide Squad.
That's not all, though. Because in order to provide Suicide Squad die-hards with an immersive experience the film's onscreen prison, the Belle Reve Penitentiary, will also be re-created so that they can walk around it and truly feel like one of the film's many baddies. Hopefully minus the violence, though.
A virtual reality set will also be included so that fans will have the chance to tussle alongside different members of the Suicide Squad from a scene from the movie. Plus, having proven to be hugely popular when it debuted at the SXSW festival back in March, the Harley Quinn tattoo parlor will also make a return. Just be warned that if Margot Robbie, who plays Harley Quinn in Suicide Squad, is in control of the needle, then you should probably avoid it. She has previous experience with messing up Suicide Squad tattoos.
And finally, DC have also launched a cosplay contest entitled Squad Up! Thursday, which will reward the 11 people who can create the best costumes for each individual member of Suicide Squad. They'll be rewarded with the rather sweet prize of an all-expenses-paid trip to next month's Comic-Con, which is between July 21-24. Suicide Squad will finally be released on August 5.
Your Daily Blend of Entertainment News