A Major Bruce Willis Blockbuster Is Getting An Unexpected Remake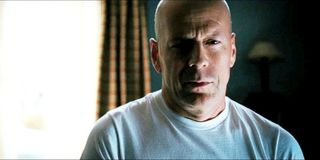 2010's Red was a nice little unexpected earner back in 2010. Its success even provoked a sequel that came in 2013, but after it grossed less than its predecessor, most moviegoers expected that to be the end to the Red franchise and we'd never hear from it again. However, rather surprisingly, Red is set to make a comeback to the big screen, as an Indian version has now been greenlit.
According to The Hollywood Reporter, Lionsgate have struck up a deal with AKFC Network to co-produce the new incarnation of Red, which, rather than being a passionate, emotional and touching drama about the color, actually stands for "Retired, Extremely Dangerous." AKFC is the production company of Anil Kapoor, and it's the second Lionsgate film to have been remade in the country, following Warrior being rejigged and turned into Brothers for an Indian audience. Speaking about the opportunity to remake Red for Indian audiences, Kapoor said in a statement:
Production on the Red remake is due to begin rather soon, too, as the publication added that cameras are set to start rolling in August 2016. Before then, though, they will have to figure out who will be cast, and it will have to go some way to matching the original's stellar line-up of stars. Not only was Red led by John McClane himself, Bruce Willis, but he was also joined on screen by Morgan Freeman, John Malkovich, Karl Urban, Mary-Louise Parker and Helen Mirren. After Summit Enterainment provided a budget of just $58 million for the film, they were delighted to see it return $199 million.
With this profit in mind, Summit Entertainment decided to order a sequel, which saw Willis, Malkovich and Mirren joined this time around by Catherine Zeta-Jones, Anthony Hopkins and Byung-hun Lee. However, Red 2 wasn't quite the success of the original, grossing $148.1million, which stung even more because it was made for $84 million this time around.
Following the disappointing return, that was thought to be that, but clearly Anil Kapoor and the good people over at AKFC don't feel the same way. This might have something to do with the fact that before its short stint as a Hollywood cinematic commodity, Red actually started out as a DC Comics/Homage series, which was created by Warren Ellis and Cully Hamner. We can expect this new version to be released into Indian cinemas by either the end of 2016 or early in 2017.
Your Daily Blend of Entertainment News