Mark Hamill Responds To Those Star Wars Episode 9 Rumors In The Perfect Way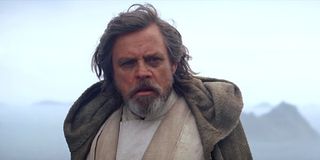 Mark Hamill sent a shock wave through The Force recently. An off-hand comment had everybody (us included) wondering what the future had in store for Luke Skywalker. At an event over the weekend, the actor said he was going to be "out of work" following the end of filming on Star Wars: Episode VIII. Did that mean he wouldn't be in Episode IX? Not exactly.
For what it's worth, we didn't automatically assume that Mark Hamill meant he would leaving the franchise after Star Wars: Episode VIII. There's some simple math that tells us that Hamill's work on Episode VIII is close to wrapping up. Filming began on the newest entry in the Star Wars saga four months ago, and just about one month ago director Rian Johnson said that filming was halfway done. So, assuming that they're able to continue filming at the same pace, they'll be done with principal photography in a couple months. With Star Wars: Episode IX not being released until May of 2019, there'll likely be some significant time off for the actors. Thus Hamill will be "out of work."
At the same time, the speculation is understandable. Thanks to Star Wars: The Force Awakens, we know that killing off major characters is certainly on the table. The idea that Luke might be killed isn't crazy. Having said that, we don't expect Mark Hamill would accidentally spill beans like that in such a manner. He successfully kept the Darth Vader reveal secret back in the early 1980's and then was able to do the same thing again by not revealing any details of Star Wars: The Force Awakens. We know that last time there was money on the line that he would lose out on if he leaked any information. We'd expect there's a similar plan in place now.
We'll be making #WaitForVIII our official hashtag going forward as we are very much waiting for this movie to be released. Actually, that hashtag already has a use, as Star Wars: Episode VIII has already been delayed once. It was originally going to be released in May of 2017, but has been pushed back to December. This means we're still a year and a half from the film, which makes the #WaitForVIII nearly unbearable.
We'll apologize to Mr. Hamill now, as we will almost certainly continue #ParsingHamill for whatever details we can find. Following Mark Hamill on Twitter is actually one of the best things you can do. His regular photos of him visiting sick kids in hospitals will restore your faith in humanity. In between, he likes to pretend he's going to give us spoilers, which is entertaining in its own right.
What do you think will be the real fate of Luke Skywalker in Star Wars: Episode VIII? Let us know in the comments.
CinemaBlend's resident theme park junkie and amateur Disney historian. Armchair Imagineer. Epcot Stan. Future Club 33 Member.