Watch Matt Damon Hilariously Prank Strangers In Jason Bourne Spy Game Video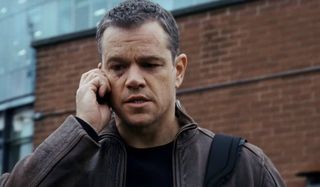 What must it feel like to be on the receiving end of one of those intense phone calls that have become a signature of the Jason Bourne series? The phone chirps. You answer it, and immediately, a commanding voice on the other end is barking orders, informing you that there's no time, and if you don't move now, millions of lives could be lost. Would you listen? Would you drop the phone and run? Strangers found out recently when Matt Damon randomly pranked strangers as part of a charity initiative tied to his new movie, Jason Bourne.
Omaze routinely teams up with celebrities as part of the release strategies for their pending blockbusters to raise money for a charity and give willing fans the chance to rub elbows with Hollywood elite and participate in a fun activity. Star Wars and Star Trek both recently cooked up original Omaze contests, and now Matt Damon is getting involved on behalf of Water.org. By making a $10 donation to Water.org, contest entrants will have the opportunity to win the grand prize: an invitation to hang out with Damon at the Jason Bourne world premiere in Las Vegas, and the promise to have a drink with the action star at the event's after party.
But if he hands you a cell phone, drop it and run in the opposite direction.
Jason Bourne is the fifth movie in the long-running spy series, but the first one that Matt Damon has done in years. The actor took one movie off, and producers tried to expand the brand by casting Jeremy Renner as a second member of the elite program that turned Bourne into a lethal weapon. The movie did OK, but not nearly as well as the Damon-led Bourne films, so Damon and his director, Paul Greengrass, are back at it again for Jason Bourne.
We actually don't know a lot of details about Jason Bourne. We know that the amnesiac spy now remembers a lot of details about his past, and a lie told to him about his father will set him on a path to confront the people who manipulated his life. Bourne (Damon) once again teams up with Nicky (Julia Stiles), and he's going up against two new government stooges in Alicia Vikander and Tommy Lee Jones (who looks like he has been in a Bourne movie before, but I swear, he hasn't).
Jason Bourne opens everywhere on July 29. To learn more about the contest, and to enter for a chance to win, visit Omaze.com/bourne. We wish you luck. Now, put down that cell phone.
Managing Director at CinemaBlend. ReelBlend cohost. A movie junkie who's Infatuated with comic-book films. Helped get the Snyder Cut released, then wrote a book about it.
Your Daily Blend of Entertainment News
Thank you for signing up to CinemaBlend. You will receive a verification email shortly.
There was a problem. Please refresh the page and try again.