The Purge: Election Year Just Scored A Big Win At The Box Office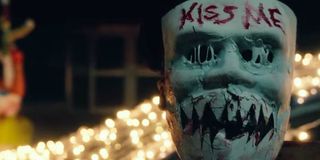 Made for the paltry sum of $10 million, The Purge: Election Year is already well on its way to earning its budget back and then some after opening on Thursday night. In fact, Election Year's stellar start to its box office campaign has seen it make even more than both The Legend Of Tarzan and The BFG. However, despite its opening haul, neither The Purge 3 nor its competitors are expected to beat Finding Dory, which is set to top the box office for a third week on the trot.
That shouldn't diminish the hugely impressive start that The Purge: Election Year has made; according to The Hollywood Reporter, it earned $3.6 million on Thursday night. Meanwhile, The Legend Of Tarzan only took in $2.7 million, while The BFG made the lowly amount of $775,000. However, The BFG is expected to quickly catch up with Tarzan and The Purge over the next few days, as family films don't take in as much on late Thursday showings.
The Purge: Election Year's $3.6 million start is better than either of its predecessors; predictions that it will clock in at around $25 million over its opening weekend have quickly been raised, with some suggesting that it's likely to be closer to $30 million or more.
If that's the case, then it will likely give The Legend Of Tarzan and The BFG a run for their money. Both of these films have been touted for $30 million openings. But while The BFG's main competitor for audiences' attention will come from Finding Dory, which continues to put up strong numbers, it's on course to have at least a $40 million July 4 weekend haul. The Legend Of Tarzan and The Purge: Election Year will be vying for attention from teens and young adults, and at the moment it looks as though The Purge: Election Year is winning.
The Purge: Election Year has benefitted from impressive reviews, which have roundly insisted that it's the best installment to the franchise yet. Well, that's what I thought anyway. In fact, you can check out my review for The Purge: Election Year by clicking here.
It also helps that The Purge franchise has been a nice steady little earner over the last few years. 2013's The Purge was made for just $3 million and grossed $89.3 million, while its follow-up The Purge: Anarchy was released a year later and took in $111.9 million. Neither received the positive reviews of Election Year, while the current political climate seems to have made viewers even more interested in the plot. All of which suggests that, since it was made for such a small amount and keeps repeatedly grossing an impressive return, we can expect even more Purge films over the next few years, too.
Your Daily Blend of Entertainment News