Weekend Box Office: Finding Dory Threepeats, Tarzan and BFG Off To Slow Starts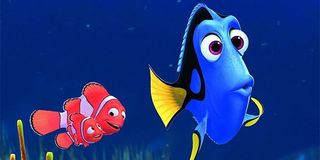 Despite three new competitors siphoning off more audiences, Finding Dory narrowly held on to number one for a third weekend in a row.
With an additional $41 million, Finding Dory's domestic total swam past $372 million, making it the second highest grossing film of the year so far. The animated sequel is in range to overtake Captain America: Civil War to become take the year's top spot.
Finding Dory is also on par to pass Frozen to become the fourth highest grossing animated film ever, but will have to make a strong fourth and fifth weekend showing to push past the third highest, Toy Story 3 and its $415 million total.
The second place spot went to The Legend of Tarzan with $38 million. That's better than most projections, but still a poor showing against a heavy $180 million production budget. With only $18 million coming in from international markets so far, Warner Bros. may be swinging its way to a flop with this latest adaptation.
Proving yet again that low budget horror flicks are always a nice way to make some cash, The Purge: Election Year banked triple its $10 million production budget on opening weekend. Its $30 million third place debut over-shadowed The BFG which took in a paltry $19 million against its $140 million production budget. That marks the first animated flop for Disney whose other entries this year have been making solid cash and breaking records.
Things looked bleak for Independence Day: Resurgence last weekend with a slow domestic opening, but foreign audiences have demonstrated a stronger interest this week, adding $177 million to the now $249 million world-wide total. That puts it in range to start turning profits, but the margins are likely to be thin.
For the full weekend top ten, check out the chart below: